Overview
Welcome to the Keep on Teaching and Learning website supported by the Centre for Teaching and Learning (CTL).
Our aim is to ensure that students at NWU receive the necessary support to continue learning during the COVID-19 pandemic.This is the support page for students

Dear Students
Welcome to the 2021 Academic Year. I sincerely hope you and all your loved ones are safe in this COVID 19 atmosphere. To remain safe, please observe all the university's protocols to avoid the spread of the pandemic. Wash your hands and sanitise regularly, wear your mask in public, keep social distance and avoid large gatherings . This site is dedicated to supporting you as our students. It provides the tools that will support you succeed in your academic journey despite the current Level 3 COVID 19 Lockdown Regulation.
We understand that some of you may have not had an experience of online remote learning. This is the reason we encourage you to follow the guidelines prepared for you on this site. The online links provided for you are designed to ensure NO STUDENT IS LEFT BEHIND.
As the Center for Teaching and Learning experts, we will continue to provide you with everything you will need for your academic success, making it possible to achieve the goals you set for 2021. To this end, we have provided e-mail addresses and contact numbers to ensure you have access to us at all times. Do not hesitate to contact our dedicated CTL staff or your lecturers. Our commitment is that your dream of getting your academic qualification is accomplished. We are here for you.
Prof Emmanuel Mfanafuthi Mgqwashu
Center for Teaching and Learning
Contact the T&L Technologies Helpdesk:
Click on  "Something is not working"  >>  "Efundi Issue".
T&L Technologies Helpdesk contact number: 

018 285 5930
Available on weekday 08:00am - 16:45pm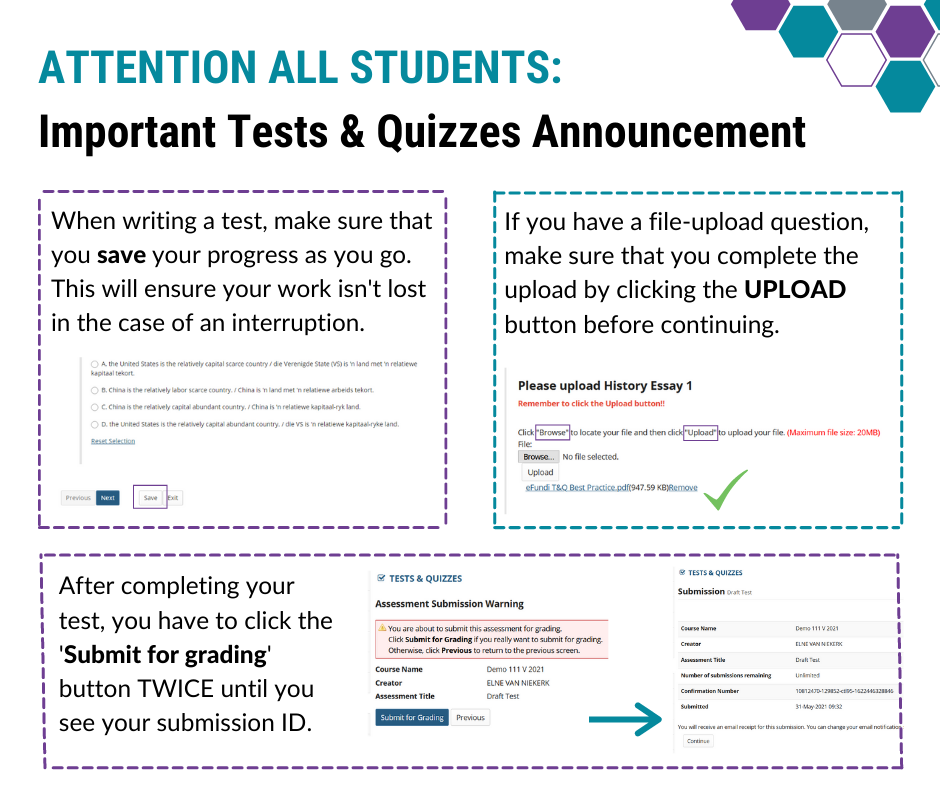 What is remote learning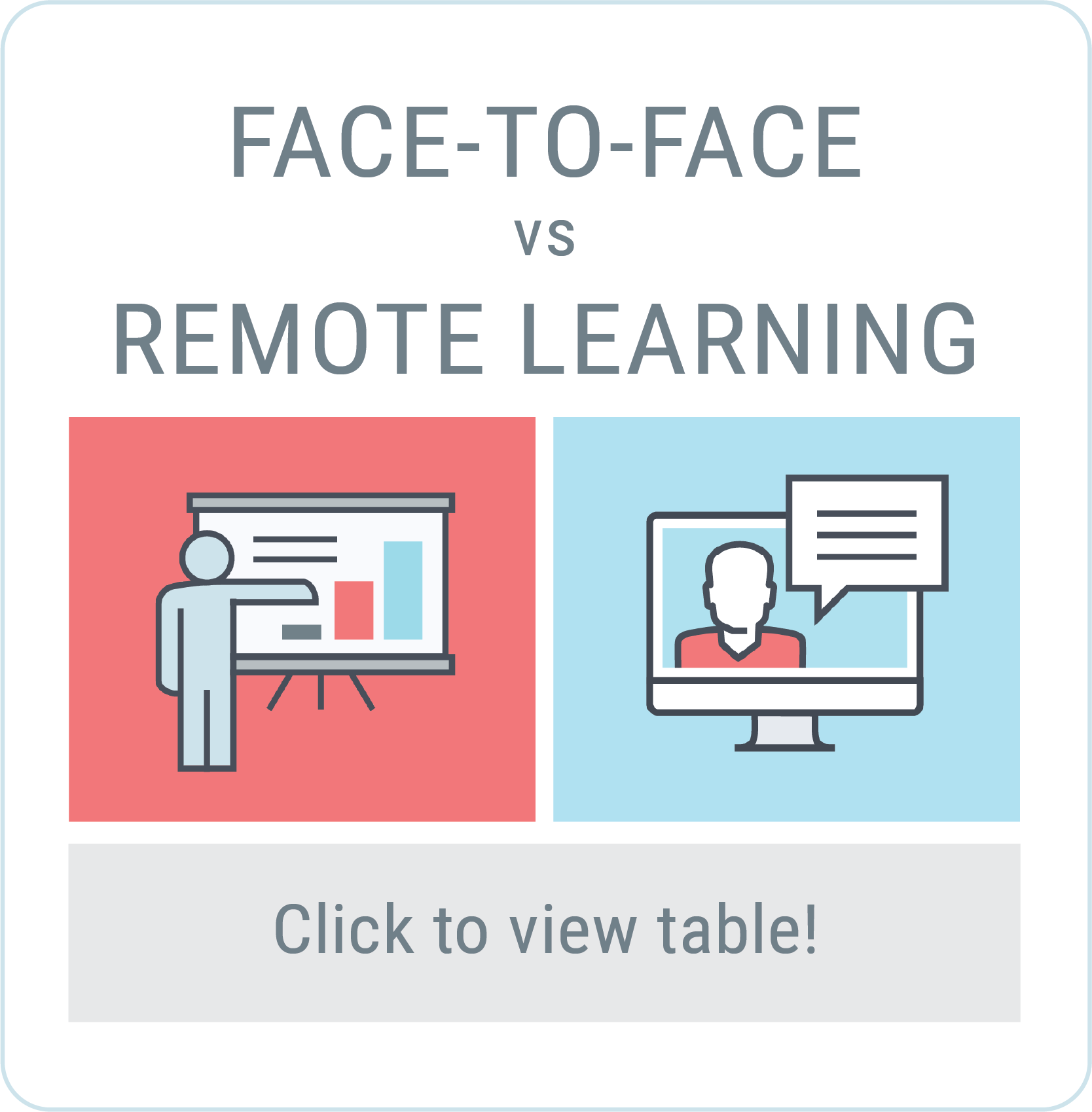 What is the difference between remote, online and face-to-face learning?
Many students choose to achieve their academic goals via online learning because it suits their needs and they are geared to study over the internet. 
Remote learning is different from online learning in that (emergency) remote learning provides temporary access to instruction due to the COVID-19 pandemic and the subsequent cancellation of face to face classes.  These extraordinary circumstances necessitate remote learning as an alternate instructional delivery mode to afford students the opportunity to continue their learning despite the threat of COVID-19.  Although disruptive and less-than-ideal, it is important to remember that remote learning will only replace face to face courses until the COVID-19 crises has been averted. 
How will I learn remotely?
At the NWU, learning will continue via eFundi.  Although you may not have access to physical campus-based resources while learning remotely, your course will continue via eFundi. eFundi will be used for communication, delivering content and to guide all your learning activities during the weeks to come.  You may access eFundi from a mobile phone and personal computer.  Utilise the existing eFundi instructions and tutorials for students.
Do I have to "attend" a class at a specific time?
You will not "meet" or attend a class in real-time (physically or face-to-face).  Learning will take place anytime and anywhere when you connect to eFundi with a device.
How will I know what to do?
Lecturers will keep you focused on achieving learning outcomes and provide you with clear instructions for remote learning activities, where to find resources, and how to complete assignments.  You will know exactly what to do with the resources lecturers provide.  Lecturers will notify students when new material has been uploaded via the eFundi email notification setting.
Tip:  You will adjust quickly to online learning. Access your learning materials on eFundi every day, stay organised, keep up with your reading, complete your assessments on time, and communicate immediately with your lecturer if you experience problems.
Is remote learning easier than taking regular classes?
The quality of education stays the same, it is only the mode of delivery that is different.  The online course content will be the same as the face-to-face classes you would have attended, however, it is not easier than face-to-face classes. 
Once classes commence in May, two-way communication between you and your lecturer will take place via the module site on eFundi. Lecturers will communicate a clear communication strategy to their students to indicate when and how to expect communication from them and how you are expected to contact them and your fellow students via eFundi.  Students should reset their eFundi notifications to allow for messages to be sent automatically from eFundi to their inbox regularly. You can easily check if your correct email address is linked to your eFundi account by following the easy steps provided in the frequently asked questions sections on the eFundi support page.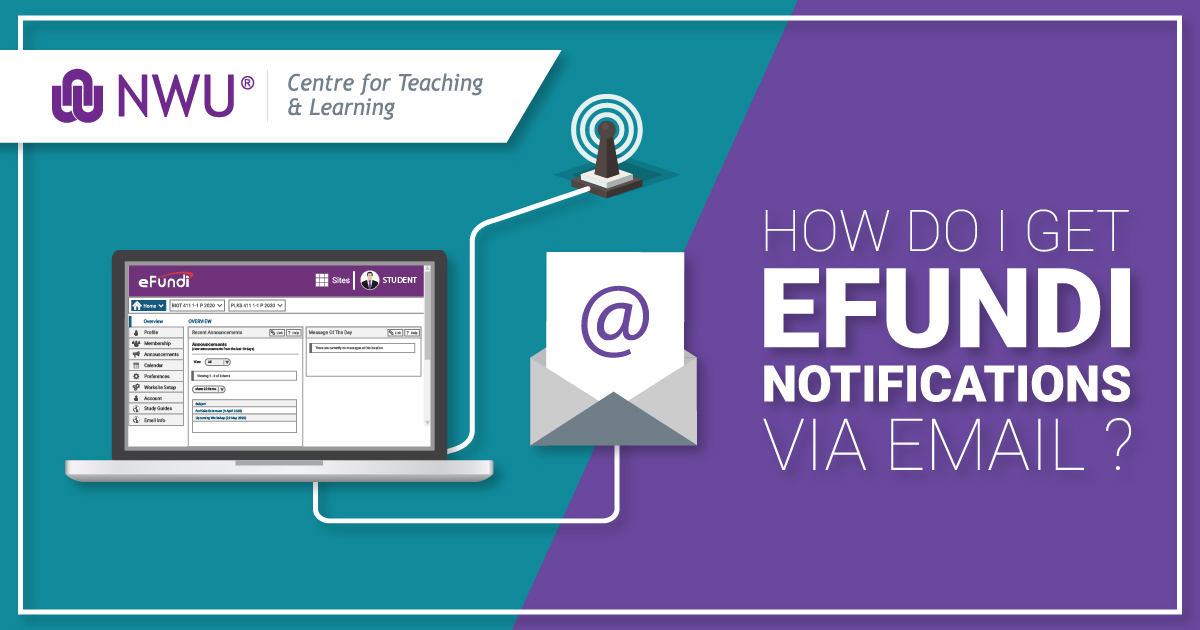 How do I change my email address?
Should you want to change your email address, click here for guidelines. Did you know that every registered student has a NWU gmail account? Access your NWU gmail account here.
eFundi Communication tools 
The Announcement tool is the standard one-way communication to students. When adding attachments to Announcements or using hyperlinks to eFundi resources in the text itself, this seamless way of communicating becomes a powerful tool to by means of which your lecturer will guide your learning. eFundi Messages, is similar to an eFundi-based e-mail system and provides an option for private two-way communication between lecturers and students. It is also an important tool that may be used to follow up with individual students and the tool also allows for communication between students. Different dedicated eFundi chatrooms may be created to allow for spaces for student-to-student support and synchronous (i.e. same time) chats during ''virtual office hours''. The unstructured format of chatrooms is similar to WhatsApp messages. For structured, academic discussions and reflections, focussed on specific topics, the Forum tool may be used where you can reply directly to a specific topic and post. 
Student-to-student interaction
To maintain a sense of community, spaces for student-to-student interaction and support for academic purposes may be created by your lecturer on eFundi. Dedicated discussion forums (with a clear purpose description) or chatrooms provide different options for public communication and student-to-student interaction. Lecturers may incorporate this in their communication plans and will tell their students how chatrooms can be used. These text messages allow for low data (bandwidth) asynchronous and synchronous options.
If student collaboration on academic activities, such as group assignments, is expected, the lecturer will provide clear guidelines, assessment criteria, and indicate how contributions of individuals will be assessed.
Term

Definition

A

 

Accessibility

Course content can be used by people with varying abilities and disabilities.

Courses are clear, easy to understand, and simple to complete.

Active learning

A strategy focused on encouraging students to actively participate in learning.

Read, discuss, and solve problems in order to synthesise course content.

Assessment

Often takes the form of a test to evaluate student performance.

Aligned with learning objectives of a course to accurately measure student progress.

Assimilation

Incorporating new ideas, concepts, or experiences into an existing mental schema.

Association of new information with pre-existing knowledge.

Factors that influence the rate of assimilation include distractions, student traits, and motivation levels.

Asynchronous learning

Allows students to learn individually, enabling them to complete courses at a time, place and pace that suits them.

C

 

Content on demand (COD)

Enables students to decide when and where they access the available content, while still adhering to deadlines.

E

 

Electronic learning (eLearning)

The delivery of learning and training through digital resources, such as computers, tablets and even cellular phones that are connected to the internet.

Users learn anytime, anywhere, with few, if any, restrictions.

F

 

Face-to-face learning (F2F)

In-person elements of lecturer-led training.

Frequently asked questions (FAQ)

A list of most often asked questions from students provided to address common issues.

FAQ's allow students to get the information they need without having to contact anyone directly.

Feedback

Provided when a student completes a course, an exam, or an assignment on eFundi.

G

 

Gamification

Insertion of game mechanics into a process that is not itself a game.

In eLearning, it takes the form of points, badges and leader boards used to engage and motivate students.

Graphics interchange format (GIF)

Moving images which are a lightweight alternative to video.

H

 

Hypertext Transfer Protocol (HTTP)

Foundation of communicating data over the internet.

A structured text that uses logical links (hyperlinks) between nodes containing text.

I

 

Interactive content

Aids learning by encouraging users to actively engage with it, including drag-and-drop elements and prompting students to complete an action before progressing to the next module.

J

 

Joint photographic experts group (JPEG)

A compression technique for colour images that reduces image file sizes to about 5% of their original size.

K

 

Knowledge base

Specialised repository used to store information and knowledge assets.

Knowledge construction

Making students aware of how the absorption of knowledge is influenced by their belief system, experience, and background.

Online students benefit when they can apply pre-existing knowledge to assimilate new material.

L

 

Learning path

Used to build structured learning programmes that guide students through a series of courses.

Learning management system (LMS)

A software application that is used to create, manage, deliver and track learning. 

eFundi is an example of a learning management system.

N

 

Navigation

Describes how students move through a course, website or document.

O

 

Online assessment

Evaluates what the student has learned in the form of quizzes, surveys, questionnaires, etc.

Online learning

Any form of learning conducted on a computer and usually over the internet.

Outcomes

Describes the knowledge or skills students are expected to gain from engaging with course content.

P

 

Podcast

Digital audio files used by listeners to learn about a range of subjects.

Problem based learning (PBL)

A learner-centred approach, similar to scenario-based learning, where students are presented with a problem and gain knowledge from the development of a solution.

Q

 

Question pool

A group of reusable questions from which an exam or survey can be created.

R

 

Resources

Learning materials often stored in an LMS. Used to support learning independently

S

 

Scaffolding

The collection of resources given to online students to help them achieve their goals.

As the online student progresses, resources are slowly removed.

The goal is to provide students with the guidance they need to become confident and empowered.

The result is that they are able to participate in self-guided learning activities without support.

Self-paced learning

A type of asynchronous instruction, allowing students to control the pace and timing of their progress through course materials.

Self-regulation

Involves thinking and acting without relying on the opinions of others.

It requires determination, focus, and self-control, as the student must overcome challenges and apply the knowledge they have gained in order to achieve objectives.

Summative evaluation

Assesses the value of a learning programme at the end of the development cycle.

Synchronous learning

Lecturer-led teaching in a virtual classroom setting.

Students log on at the same time and the lecturer guides the class.

U

 

User interface (UI)

The means by which the user and a computer system interacts.

Uniform resource locator (URL)

A web address.
Adjusting your study habits for remote learning
Download Face to face versus remote learning.pdf here
Manage your remote learning workspace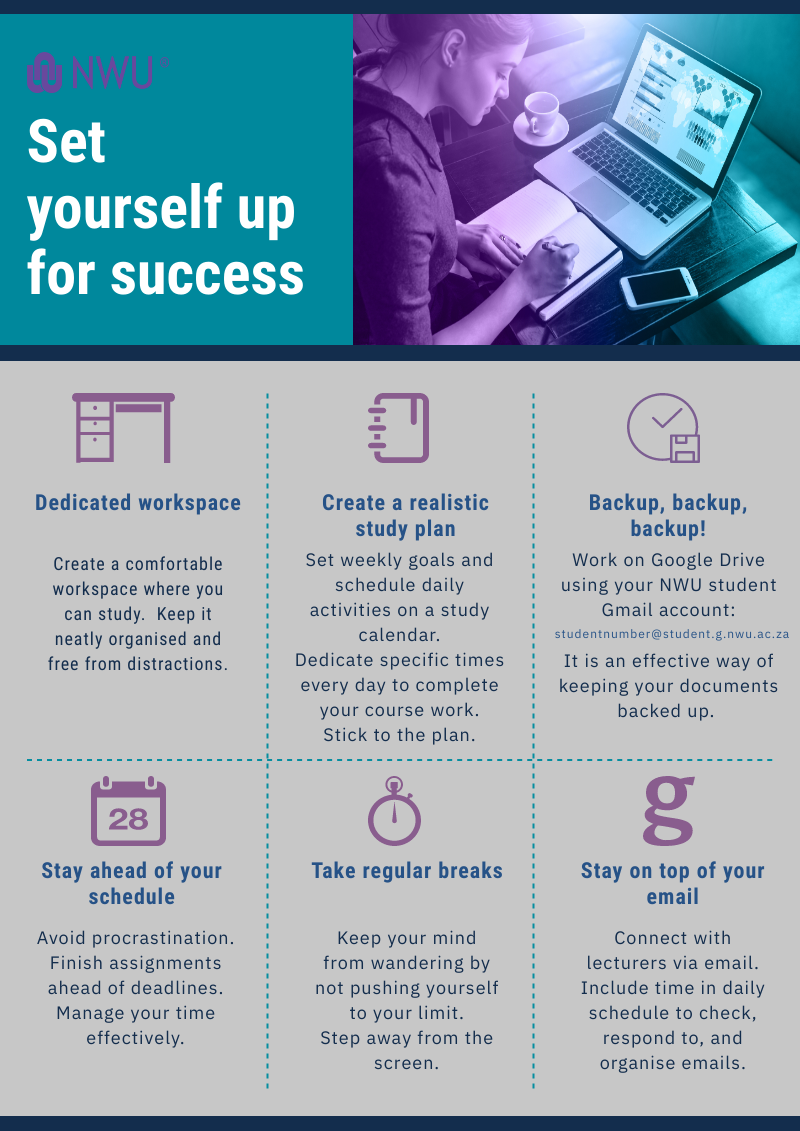 Download Manage your remote learning workspace.pdf here
Continuous Assessment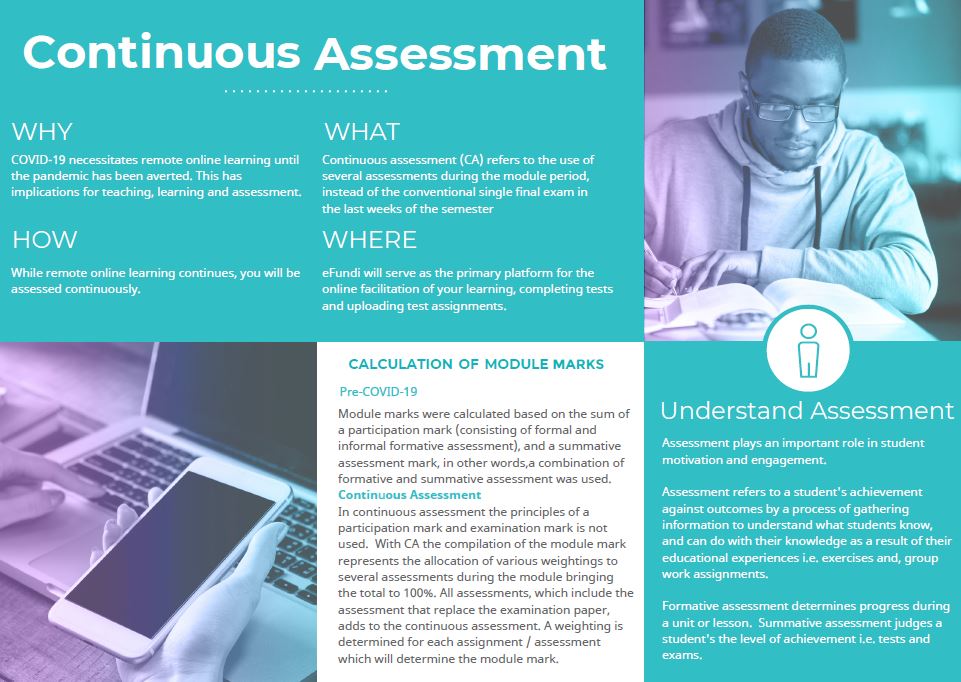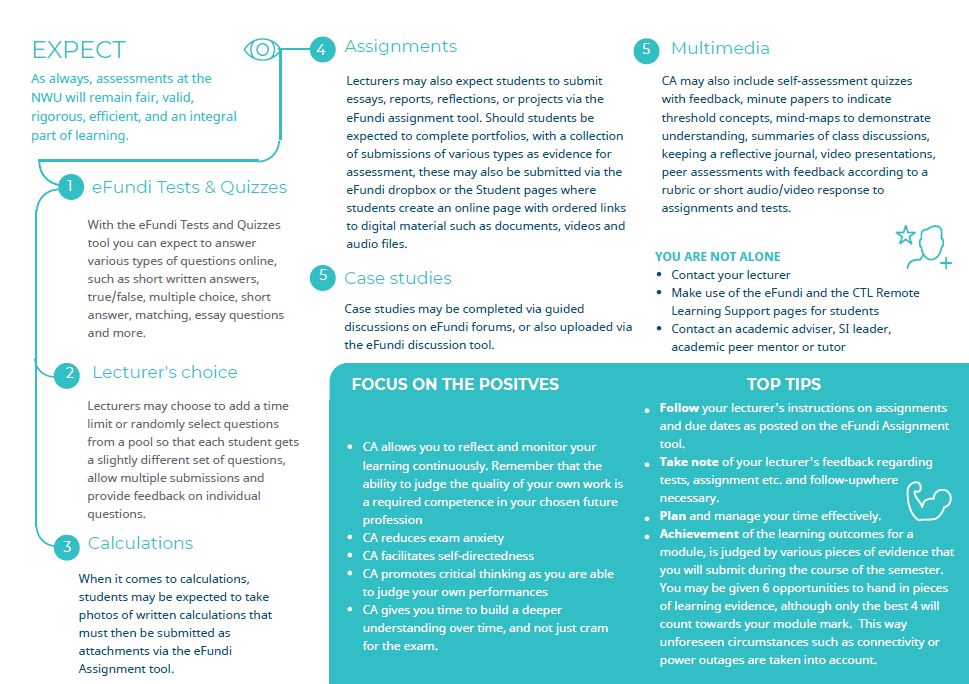 Download All you need to know about continious assessment.pdf here
Time management for remote learners
View transcript of the Time Management for Remote Learning-video
Listen to Podcast of the Time Management for Remote Learning-video
Study techniques for remote learing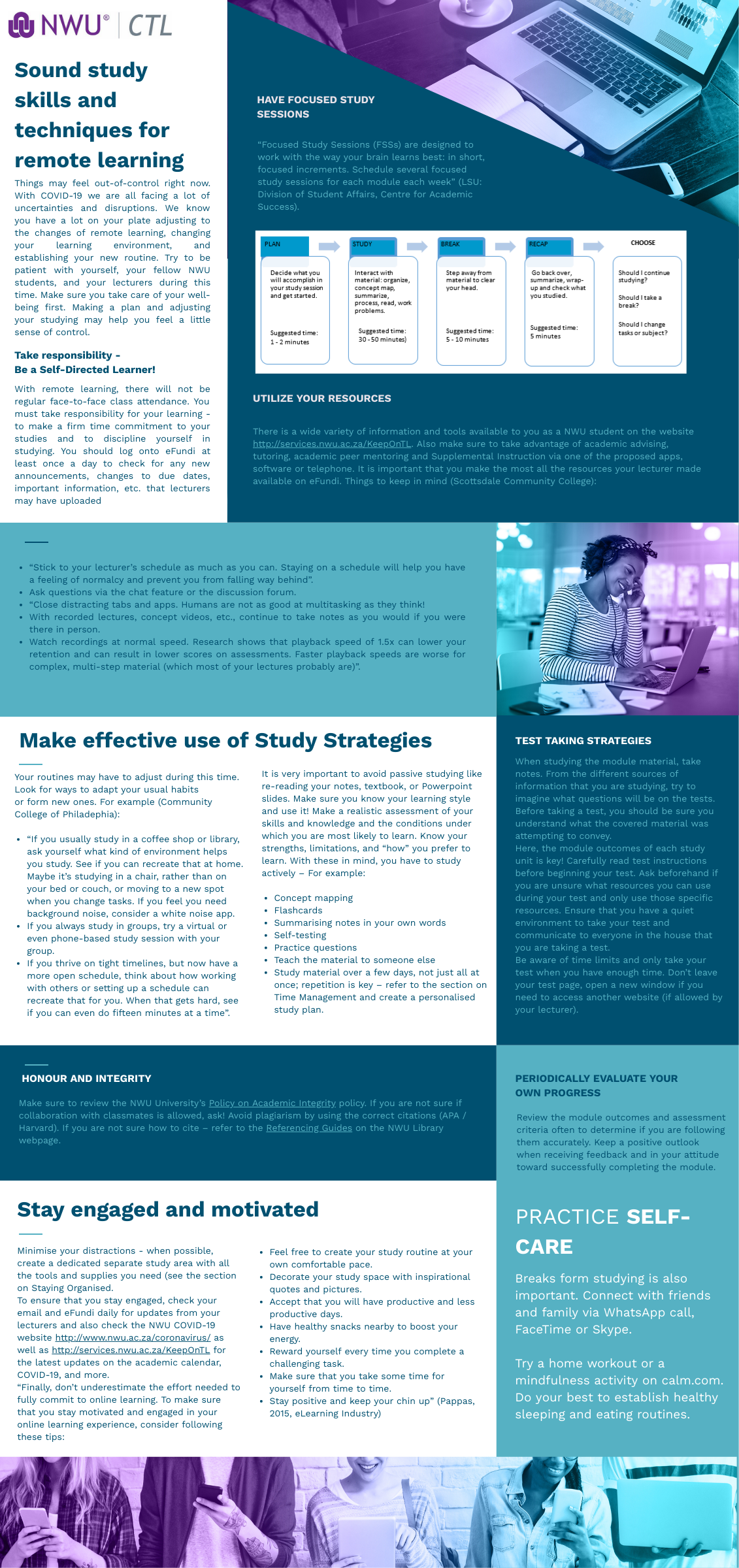 Download Study skills and techniques for remote learning.pdf here
Multitasking versus monotasking
Ask a question about remote learning/ Frequently asked questions
Everything you Need to know
Turnitin
Should you have questions regarding your Turnitin report, consult the "How to get access to your Turnitin report" tutorial here. 
Be reminded that Turnitin does not check for plagiarism in a piece of work.  Instead, it will check your work against their database, and if there are instances where your writing is similar to, or matches against, one of their sources, they will flag this for review.
Please note:  Your lecturer could opt not to have given you access to Turnitin.
Zero rating - What does it mean?

The North-West University site is zero-rated.



Please take note that MTN only provides 500 MB of zero-rated data per month per student.
This implies that, even if students navigate within eFundi, they will start paying for any activities in excess of 500 MB.
eFundi
Quick guide for eFundi support
When logging a request in the IT-help system or sending an e-mail to
efundi-nwu@nwu.ac.za
, please make sure to include a phone number where we can reach you. If we only have an e-mail address, resolving the matter takes so much longer.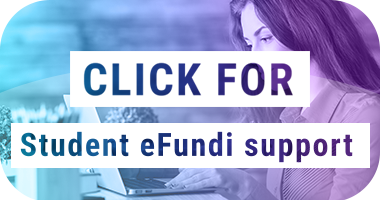 eFundi HELPDESK contact details:
TAKE NOTE! 

New campus-wide eFundi helpdesk process

:
Follow this link: https://support.nwu.ac.za/Login/Login?ReturnUrl=%2f

Log in with your CAS details

Click on "Something is not working"

Under the "Teaching and Learning Technology Support" heading, click on the appropriate option

Complete the form. Please provide as much details as possible

In case of error messages, attach a screenshot, it will help resolve the issue faster
Phone the helpdesk
The various eFundi Helpdesk numbers below are available between 8:00 AM and 16:45 PM.
Central Helpdesk:
018 285 5930
Mahikeng Campus:
018 389 2312
018 389 2447
Potchefstroom Campus:
018 299 2003
018 285 2295
Vanderbijlpark Campus:
016 910 3035
016 910 3038

With automatic password expiration, you may experience problems in accessing your eFundi sites and NWU systems. You may change your password via the "Reset passwords" menu item/tab on the  eFundi login page. You can also make use of DIY Change / update contact info option available via the eFundi menu.  Click here for a step-by-step guide.
Data saving tips when using zero-rated eFundi
Close all open tabs in your internet browser application to avoid incurring accidental data usage.  Track your your data usage with data management applications such as Glasswire.
Assessment 
Students will be assessed continuously throughout the semester, as the June examinations will not take place. This means that students need to ensure that they participate in all assessment opportunities and communicate with their respective lecturers in time, should they be unable to meet the final date for the submission of an assessment. Lecturers are aware of the challenges that students face, as they are experiencing these themselves. Remember that this is a new environment for all of us and we are doing the best we can to ensure no student is left behind.
Will my assessment plan change?
Your assessment plan will most probably change.  Any changes to assessment plans will be explicitly, clearly and timeously communicated to you, by your lecturer. Make sure to check eFundi regularly to keep up to date with announcements in your different modules. As always, assessments will be fair, valid, and of outstanding quality. 
Assessment could include eFundi Tests & Quizzes, Reflection journals (i.e. via eFundi blog or Student pages tools, assignments and forum discussions).
Communicate clashes in terms of submissions or online tests in advance to the lecturers involved.
Free mobile apps to optimise your academic success

Google Drive
Store files safely and put them within reach from any smartphone, tablet, or computer. 15 GB of storage is free with a Gmail account.
Save files to OneDrive and access them from any device, anywhere. You can access files without being online.  No connection, no problem.
Evernote is a note taking app that allows you to take notes anywhere and share ideas with anyone.
Stay organised and keep tack of what needs to be done. Get more done by planning your day for maximun productivity.
Study smarter, using cognitive science. Find, create, and share SMART FLASHCARDS on any device.

  Office Lens
Convert Android and iOS devices into a scanner and convert images to PowerPoint, PDF or Word and save it to the local device.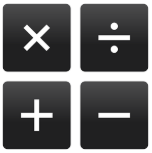 RealCalc Scientific Calculator
Give your Android mobile device all the mathematical powers of a traditional, physical scientific calculator.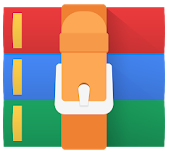 RAR File Compression and Extraction
RAR is a compression and extraction programme, basic file explorer on Android and allows for the creation of RAR and ZIP files
Smart Apps
Tools for staying connected

WhatsApp can be used by students to communicate with each other and their lecturers (send messages, photos, videos, documents, audio, links to websites and make voice and video calls). WhatsApp groups can be used to create a closed space that is accessible at any time by everyone in the group. WhatsApp chats can be saved, archived or screenshots can be made of chats.  Students may also buy a "WhatsApp ticket" to ensure connectivity.  

Google Hangouts is available for desktop and mobile use and can be used in any web browser (there are apps available for Chrome OS, iOS and Android). To Meet and chat, download Google Hangouts here. 
Caution: Video chat is limited to 10 participants.                           

Skype can be used in any web-browser.  Simply invite your friends to join in, by using their email addresses. It is also possible to share screens and record chats. Download Skype here.
If you have an Android phone you can chat (unlimited text) with your friends and groups with Moya Messenger for no data cost.  To use #datafree apps, you need to keep your mobile data turned on.  As long as you are on MTN, Vodacom, Cell C or Telkom (in South Africa) #datafree apps will not use any of your airtime or data balance. Message attachments are fully supported, but not #datafree. Download the Moya app here.

Zoom can be used to meet online with your fellow students, with or without video. You oor fellow students can share screens and record the session.  You have access to multiple tutorials created by Zoom. Download Zoom here.
Caution: Zoom is data intensive. 
Participate with friends via GoBoard, a free online tool that combines video conferencing with an interactive canvas (like a white board). You don't need to download anything. Simply create a GoBoard, share the link with friends, and begin! When you are done, export the "board" worked on as a pdf document. GoBoard runs on two different platforms: an iPad App and the desktop version, available via the web.  
Before uploading a video you needed to create as an assignment, be sure to compress, compress, compress to save data!
Recommended video editing and compression tool:
Smartphone video compression tool:


---
Smartphone scanner tool:



---
DIY Document camera:
Check tutorials on how to make a document camera with your cellphone and a paper cup.

---
Tutorials for recording from home:
OpenShot is free video editing software that is easy to use, quick to learn, and surprisingly powerful. Use it to combine and edit self-recorded videos, adjust existing open educational videos, and compress videos (reduce the file size).
Recommended video compression tool:

HandBrake is free software with which you can compress videos (decrease the file size). It is very easy to use. One can for instance decrease a 500mb video file to only 60mb. A tutorial on how to use HandbBrake to decrease the file size of a video. Click here to watch a tutorial on how to use HandBrake, created by one of NWU's lecturers.
How to record proper audio on a mobile device

Good lighting practices at home
Resources FYI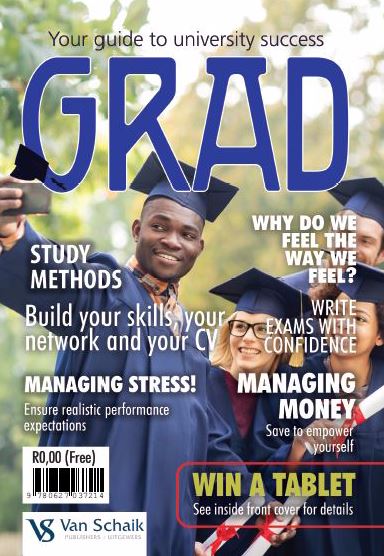 GRAD is a must-read guide for students adjusting to university.  It helps students understand the many changes, new demands and challenges they face.  To access, click here.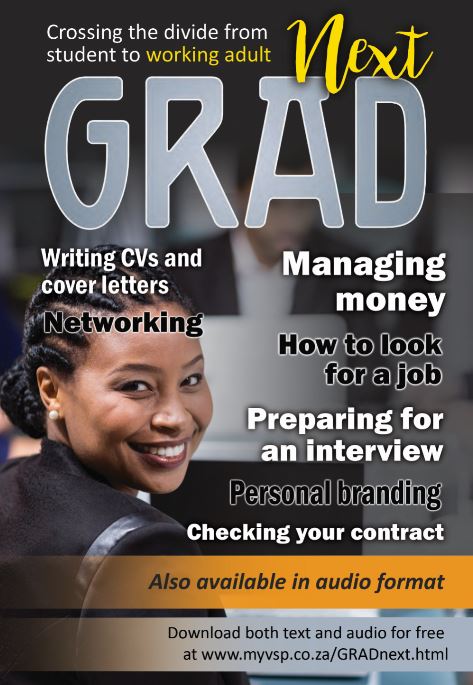 GRAD is a must-read guide for students adjusting to university.  It helps students understand the many changes, new demands and challenges they face.  To access, click here.



What NWU students are saying
Ntombifuthi Dhladla, MC
FACULTY OF ECONOMICS & MANAGEMENT SCIENCES
"If you fail to do something now, it will take longer to do later, therefore don't procrastinate"
Bianca Jooste​, VC
FACULTY OF EDUCATION
"The things you are passionate about are not random, they are your calling" - Fabienne Fredrickson
Palesa Thetha, VC