Educational Technology
CTL collaborate with individuals, schools or faculties to enhance modules with the integration of technology into teaching practices using a sound pedagogical approach. The CTL team have several Educational Technologists who work with academic staff to explore technology that contribute to enhancing the learning experience of students.  Meet the team.
Featured Ed Tech Tool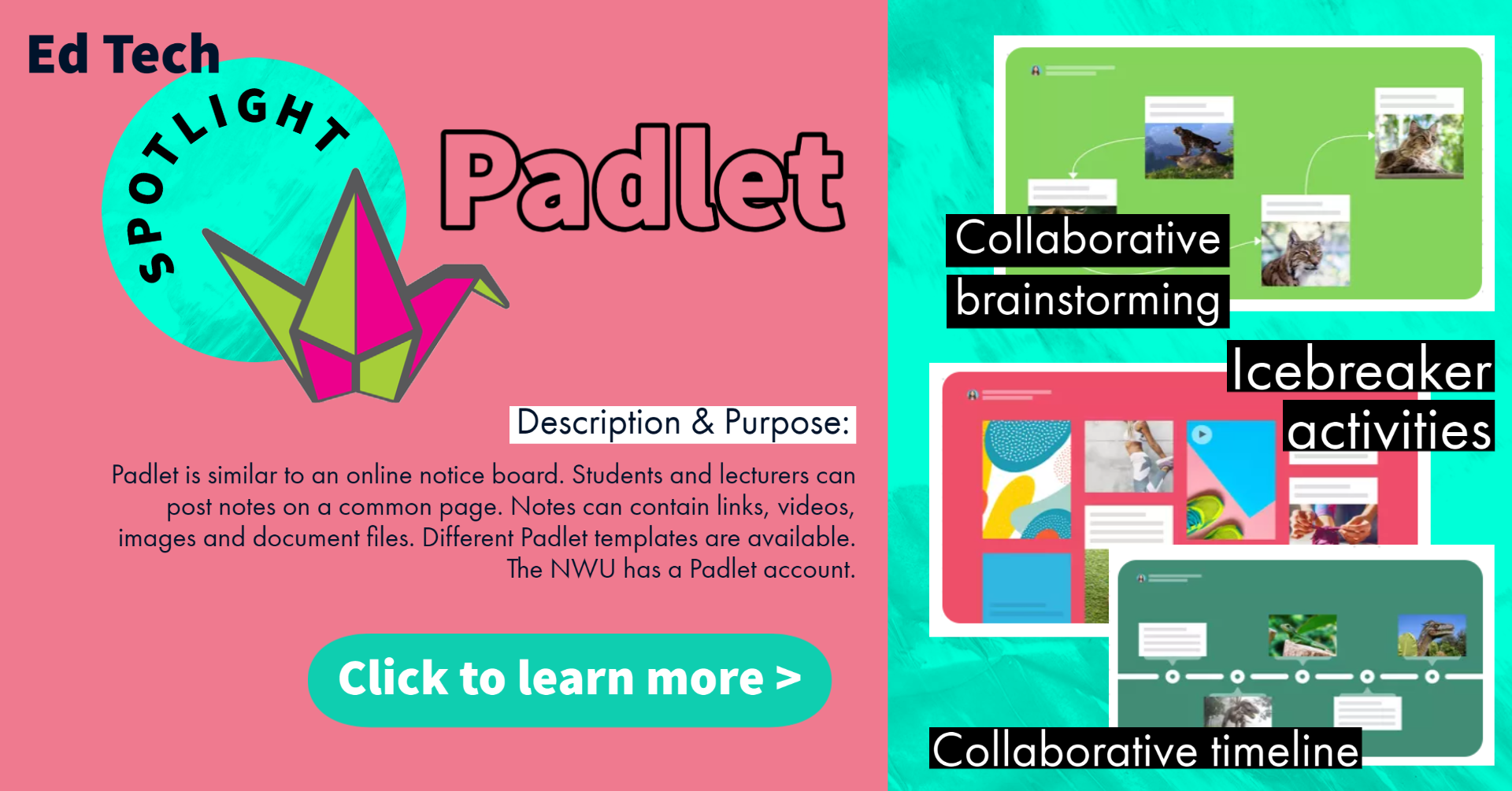 To view any of the previous Ed Tech Spotlight tools, click on the A-Z Educational Technology List tab below.


Contact the T&L Technologies Helpdesk:
Click on  "Something is not working"  >>  "T&L Technology Support".
T&L Technologies Helpdesk contact number: 

018 285 5930
Available on weekday 08:00am - 16:45pm
When to contact who:
Technical issues with eFundi sites
Site participant problems
Student complaints
Turnitin Support
PDF Marker support
Which eFundi tools will work best for my T&L purpose (communication, assessment, collaboration etc)?
I have an idea – what other educatonal technology can work?
Adding media in eFundi Lessons
Making your eFundi site more student-centered, user-friendly and interactive
Designing and planning assessment
Designing and planning eFundi Lessons
Optimising your eFundi site for remote teaching
Adding banners and graphics to Lessons
Making your Lessons more interactive
Creating video and multimedia
Educational Technology Tools:
PDF Marker Tool

The new PDF marker tool is available: A new PDF marker tool is available enabling lecturers to mark assignments, submitted in PDF format, electronically (on screen). The tool is still under development to improve and extend  its functionality, but can already  be used for basic marking. This Infographic provides an overview of the steps for using the application. For detailed instructions on downloading, installing and using the tool please view the short video clips below. More information on demonstration webinars will follow soon.
NB: Please take note that this tool is under development. The PDF marking tool can currently only be used with the Assignments tool in eFundi and not Tests and Quizzes.
Please take note of the following:
The PDF Marker is still under development

This means that the PDF Marker should/must/can only be used with the assignments tool within eFundi.
This means that Tests & Quizzes and Groups are not supported yet. Thus, if you use any other tool than assignments, you will experience issues.
We humbly request that you only attempt to mark assignments that were set up correctly (more on this below), that was downloaded from within the assignments tool.
We humbly request that you do not attempt to use the PDF marker with Tests & Quizzes or Groups.

Remember to set your assignments up correctly

When setting up your assignment, remember to change the submission type to uploaded PDF file(s) only. This ensures that students won't be able to submit documents in any other format than PDF. This is quite a common mistake, that causes a lot of errors.
Secondly, remember to set the Grade Scale to Points.
Thirdly, remember to add the maximum points in the box below the grade scale.

We acknowledge your need for the PDF Marker beyond plain assignments. Please take note that we are continuously working on improving your experience. However, the development and testing of the PDF Marker is a resource-intensive and time-consuming process.
We are starting with testing the upcoming version which boasts various new features, as requested by our PDF Marker community! Keep an eye on the announcements for teasers.
MS Teams

MS Teams can be used for synchronous online classes just like Zoom but the advandatge is that there is no time limit and the number of participants alallowed per session is 300. We do not advice you to use MS Teams as a Learning Management System, for example sharing of resources and taking assessments. MS Teams does not replace eFundi.  IT does not back-up MS Teams but they do back-up eFundi.
Instructions for lecturers click here.
Instructions for students click here.
Video, mobile scanning and transcript tools
The tools below can help you convert your content for remote teaching. For guidelines on how to rethink your module for the transition to online learning see the CTL contingency support page Keep on Teaching and Learning. Ensuring student access should be central to all your planning. Adhere to the 5 guiding principles: Teaching NWU students online must be eFundi-based, Mobile-friendly, Low Tech, Low Data and Low Immediacy.
Take note: if you click on the icons of the tools it will direct you to a youtube tutorial on how to use the tool. Further tutorials and download/access instructions are included in the descriptions of the tools.
Embed self-recorded video and audio on Lessons
View this PDF tutorial  or Video tutorial on how to embed self-recorded videos and audio files in Lessons and prevent it from downloading. Quick tip: Do not embed the video/audio. Rather upload it in Resources first and then insert a textbox in Lessons. Copy and paste this code in the Source of the Text editor and replace the placeholder text with your video's URL. Get the video/audio URL in Resources by right-clicking on the video/audio. 
<p style="text-align:left"> <video controls="" width="80%"><source
src="Insert file URL here" type="video/mp4" /></video> </p>
Screen recording tools:


 Record screencast video, audio-only, narrated PowerPoint

 No Webcam recording

 Cannot export one recording in audio-only and video

 Resizable screen capture window

 No screen annotations
PowerPoint 2016 not only allows you to record your presentation but also any area of your computer screen. These recordings can be saved as separate video files (MP4). Look at the step-by-step tutorial.  View these tutorial videos to see how to do a screen recording and an audio recording in PowerPoint 2016. 
---

 Record webcam, screencast video, audio-only

 Export one recording in audio-only (M4A file) and video (MP4) 

 No resizable screen capture window

 No screen annotations
Zoom can be used to meet with your colleagues online, with or without video. All participants can share their screens and the session can be recorded.  You can also use Zoom to record your classes in video and audio-only format. View this tutorial to see how to record a narrated PowerPoint using Zoom. View this tutorial series for the whole process from opening a Zoom account, recording and uploading to eFundi Resources. You also have access to mutiple tutorials created by Zoom. Download Zoom here.
Caution: Depending on the student profile and student access to the internet it is NOT RECOMMENDED to use Zoom for live interaction with students. Zoom is data intensive. Students may not have unlimited access to data. Their WiFi may not be stable.
---


 Record screencast video

 No Webcam recording, no audio-only

 Cannot export one recording in audio-only and video

 Resizable screen capture window

 Screen annotations (type, draw)
EZLive allows users to perform screen recordings with annotations. It allows you to draw and type anywhere on your screen. EZLive is ideal for software demonstrations. See a tutorial here. Download EZLive here.
---
Tool for creating transcripts:

Video editing and compression tool: Windows & IOS
OpenShot is free video editing software that is easy to use, quick to learn, and surprisingly powerful. Use it to combine and edit self-recorded videos, adjust existing open educational videos, and compress videos (reduce the file size). View these tutorials on how to install on PC and MAC. View these tutorial on how to edit on PC and MAC. Download OpenShot here. For more tutorials click here.
---
Video compression tool: Windows

HandBrake is free software with which you can compress videos (decrease the file size). It is very easy to use. One can for instance decrease a 500mb video file to only 60mb. We have created a tutorial on how to use HandbBrake to decrease the file size of a video. Click here to watch a tutorial on how to use HandBrake, created by one of NWU's lecturers. Get HandBrake here.
---
Smartphone video compression tool:


---
Smartphone scanner tool:
---
DIY Document camera:
Click here to view the tutorial on how to make a document camera with your cellphone and a paper cup.

---
Tutorials for recording from home:
Padlet

Padlet offers a basic free account, but that account had limitations - you are limited to only three walls and files you upload are limited to 10MB. That is why the Centre for Teaching & Learning has a Padlet Backpack. CTL can give any NWU lecturer access to use our licence. You can create unlimited walls and your file upload limits areincreased to 250MB per file.
Adding Padlet to your eFundi site:
A-Z Educational Technology List
Educational technology spaces per campus:
CTL offers services to support meaningful technology integration that enhance the teaching and learning experience of staff and students. Even though CTL is working hard towards an equal distribution of resources provided, we encourage staff to take up the challenge and work with CTL to find innovative ways to work together despite the differences in availability of resources per campus. Below please find a list of the resources provided by CTL according to campus.
Mahikeng Campus
Maker Space (click to learn more – where can they find info?)
Potchefstroom Campus
One Button Studio (coming soon)
Vanderbijlpark Campus
Educational technology available for checkout per campus:

Booking form for Educational technology
Mahikeng Campus
Padcaster
1 x 360 camera
40 x Google Goggles
2 x Aver conference camera 340+
4 x Aver vision U70 conference
4 x Aver vision M70HD.
To book any of the abovementioned equipment click here.
Potchefstroom Campus
Padcaster
1 x 360 camera
40 x Google Goggles
10 x Portable Aver Document Camera
15 x Aver conference camera 340+
To book any of the abovementioned equipment click here.
Vanderbijlpark Campus
4 x Video Camera (with tripod)
1 x Logitech Conference Camera
2 x Logitech wireless presenter (clicker)
1 x Equil Smart Marker
Mecer Digimemo 
Mimio (Capture, pad & teach)
1 x 360 camera
40 x Google Goggles
2 x Aver conference camera 340+
4 x Aver vision U70 Document camera
1 x Aver vision U50 Document camera
4 x Aver vision M70HD.
To book any of the abovementioned equipment click here.
Meet the team
Educational Technology: eLearning designers
Educational Technology: eLearning developers
Teaching and Learning Technology Helpdesk
Technology Resource management
Education Technologists: Development & Projects