Overview
The Induction Programme for Academics is an activity aimed at enhancing NWU academic staff as university teachers, as part of their academic professional development. The programme is compulsory for all new academics appointed to teach at NWU, those permanently appointed as well as part-time staff with a fixed-term contract (appointed for more than six months). Induction is also an activity funded from the University Capacity Development Grant (UCDG). 
About Induction
The NWU's Senate Committee for Teaching and Learning (SCTL) approved, on 12 September 2018, the new Induction Programme for Academics. The programme is structured modelling a blended learning experience, that is, online and contact. For both the novice and the experienced academic staff member, the final requirements for completing the Induction programme are: (i) Complete the Online component; (ii) Attend the three-day Campus programme; (iii) Attend the one-day Faculty programme; and (iv) Create and submit a reflective Portfolio of Evidence. These requirements are completed within the first three to six months of appointment. The criteria for the electronic and reflective portfolio of evidence articulates from Induction to learning opportunities within academic professional development.
In 2017 / 2018, the new programme was piloted and in 2019, the programme was implemented; in 2020, the new programme may be refined but not reviewed; an impact study will most probably be reported on that will inform the planning for the next three-year cycle.
Attached please find the Induction Framework.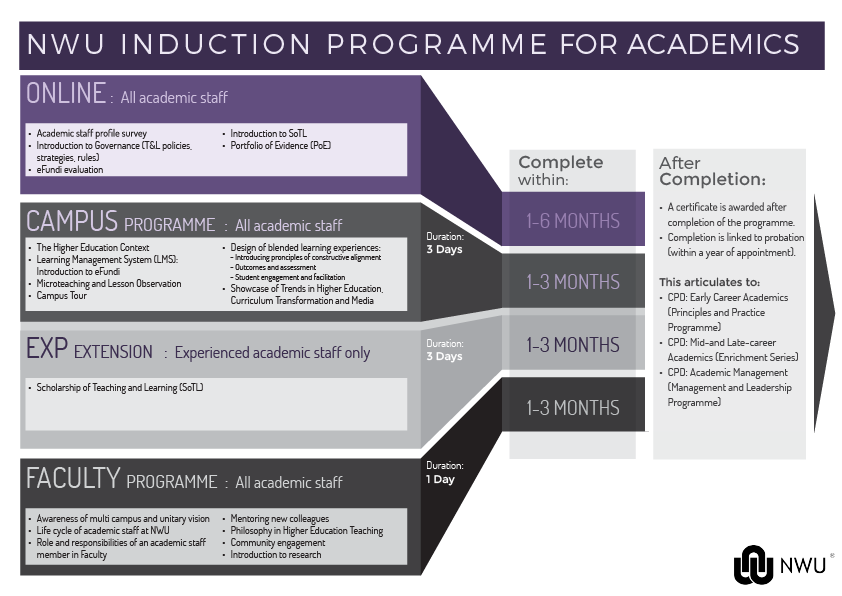 Important Dates
The following are important dates of when the Campus programme as part of Induction will be offered; please register to attend!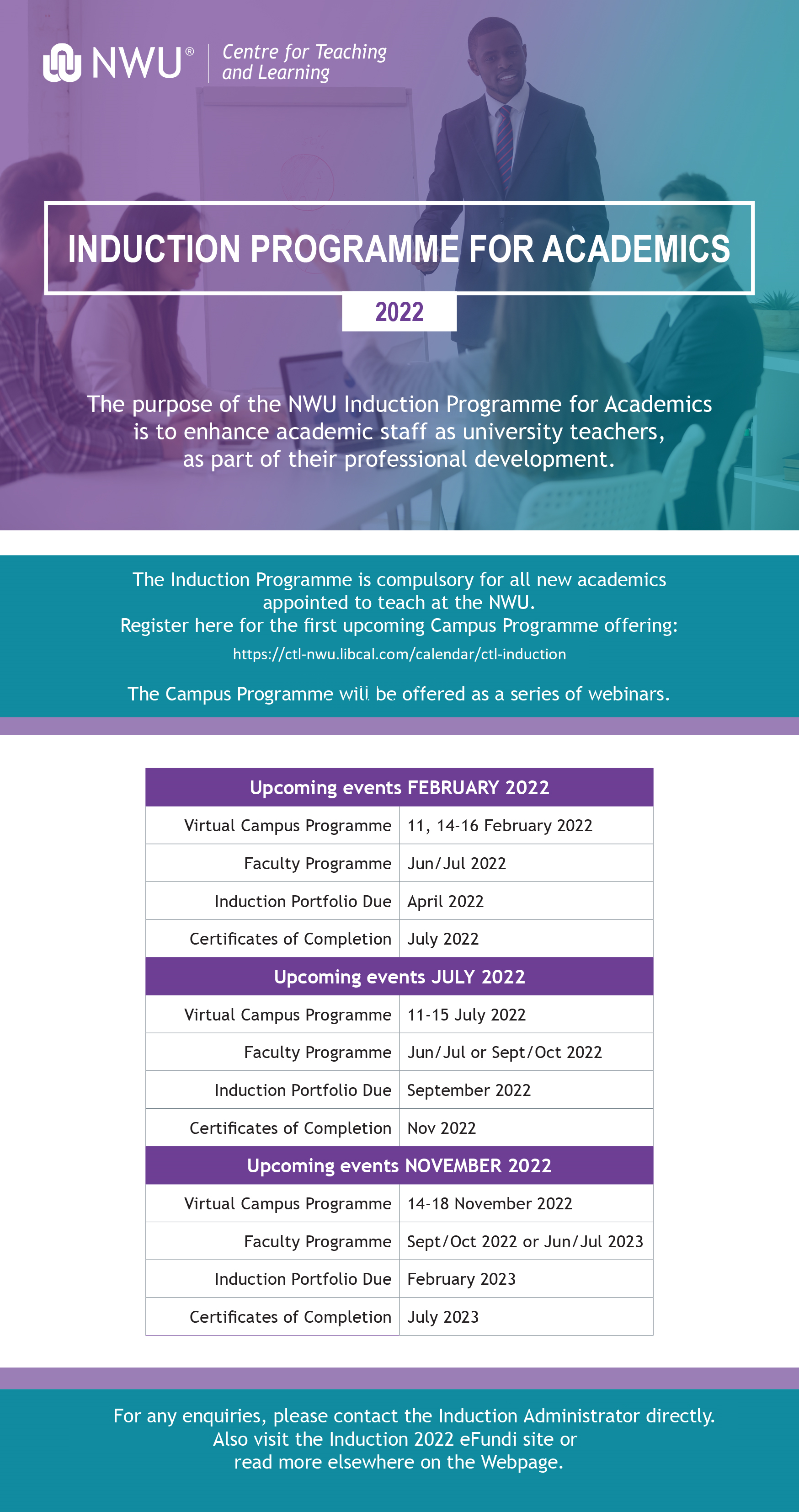 Click here to view  a PDF version of the important dates.
Contact
Mahikeng Campus
Campus Coordinator:
Ms Ann-May Marais
+27 (0)18 389 2292
Building A3, Block D, Office G80
Campus Administrator:
Ms Nchadi Leshaba
Potchefstroom Campus
Campus Coordinator:
Ms Martie Mostert *
+27 (0)18

285 2641

Building C8, Office 138
Campus Administrator:
Ms Maeta Windy Matlou
+27 (0)18 285 2246
Building E8, Office 102
Vanderbijlpark Campus
Campus Coordinator:
Ms Jani Kuhn
+27 (0)16 910 3680
Building 13, Office SL319
Campus Administrator:
Ms Natalia Duiker
Building 13, Office SL399E
---
Induction eFundi 
Ms Elne van Niekerk
+27 (0)16 910 3317
Building 13, Office SL320
Induction Technical
Mr Thamie Ndlovu
+27 (0)18 389 2441
Building A3, Block D, Office 189
Induction Administrator
Ms Natalia Duiker
Building 13, Office SL399E
Campus programme
The three-day Campus programme offers new academics the opportunity to be competent in designing, developing, and delivering meaningful teaching and learning experiences for students. The Campus programme offers the novice academic staff member, an introduction to the higher education context and introduces the principles of constructive alignment. There is also a facilitated activity on designing a learning experience for students with sub-sections on (i) an introduction to blended learning; (ii) assessment in higher education; (iii) student engagement and facilitation; and (iv) integration of technology. The designing of a learning experience includes: basic lesson planning and an outcomes-based approach to teaching. For the academic staff member with teaching experience in higher education, the contact part of the programme includes: an overview of the Higher Education context, a facilitated introduction to curriculum design and development, and an introduction to the Scholarship of Teaching and Learning (SoTL).
The following is a summary of the day themes of the Campus programme that are facilitated:
Day 1 Theme: Get to know your Campus as part of a Higher Education institution
1. Introduction to building your Portfolio of Evidence and navigate the Induction site on eFundi
2. Introduction to the NWU's Learning Management System (LMS): eFundi tools
3. Tour your Campus support services and meet the CTL colleagues, on site
4. Showcase by a guest lecturer: Technology Integration / Media
5. Higher Education Context in South Africa and at NWU
'Life cycle' of university academic

Higher Education landscape

Academic Integrity
6. Showcase by a guest lecturer: Trends in Higher Education Curriculum Transformation
Day 2 Theme: Design a learning experience: Engaging students in the learning process
7. Blended Learning:
Introduction to blended learning addressing the principle of constructive alignment

What is the TPACK Framework?
8. Outcomes and Assessment in HE
9. Student Engagement and Facilitation
The Finish Line: The Student Experience
10. Completing the TPACK template
Day 3 Theme: Build your academic career at NWU
11. Scholarship of Teaching and Learning (SoTL) (Experienced lecturers)
12. Micro-teaching and Lesson observations (Novice lecturers)
Faculty programme
A one-day faculty-based programme is part of the integrated Induction offering for academic staff. A cross-campus approach ensures academic staff, novice and experienced, are introduced to faculty structures, roles and responsibilities are clarified, teaching and learning, research, and community engagement within the respective Faculty is addressed. There is also a strong mentoring component with the aim of the integration of the new academic staff into the respective Faculty.
My Portfolio and Timeframe
From your date of appointment at NWU, you are required to attend the first scheduled Campus programme. Following attendance, three months are afforded for you to complete the requirements of your portfolio of evidence and for you to attend your Faculty programme. Should you only be able to attend the Campus programme at a future date, you are still required to submit your portfolio within the six-month experience from your appointment date.