Read in Sesotho | Read in Afrikaans I Read in Setswana
The Language Directorate of the NWU is a support services division that renders a variety of language services to the University: language planning (policy and implementation), translation, interpreting, language editing, language advice and a language ombudsperson function. Additionally, the Directorate also carries out research where this may be relevant to any of its language activities.
Our services are provided to other support divisions, as well as to the teaching-learning and student life environments. We are also involved in language facilitation, mostly in the form of interpreting, in the community.
International Translation Day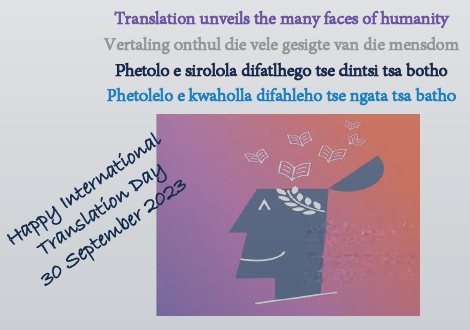 Our unique language policy
In line with our multilingual policy, we strive to promote the academic status of the predominant African languages of the regions in which our campuses are situated, namely Setswana and Sesotho. We do this in addition to maintaining English and Afrikaans as the current languages of instruction. Our functionally multilingual language policy is there and additive model, where we add languages of instruction to those that have traditionally been used on our campuses.
To reach these multilingual goals, we will use all linguistic resources at the disposal of our staff and students, who have widely varying linguistic repertoires that they bring with them. Our ultimate purpose is to achieve both improved access to NWU and improved teaching-learning.
This we will achieve by enhancing the student experience, which includes welcoming whatever languages students and lecturers bring to the University.
To this end, we will continue to use the following mediums of instruction: single medium (English, Afrikaans, Setswana and Sesotho), parallel medium, dual medium and educational interpreting. We will also be using translanguaging, starting in 2020. Language facilitation will then take place by a variety of means, including multilingual learning material and multilingual peer facilitation, educational interpreting and translation, multilingual videos and captured lectures, and in various other technology-enabled ways. 
Our eventual purpose
Ultimately our staff will be able to function more multilingually, while our students will be enabled to master, internalise and reproduce teaching-learning content better – and be able to do so in a number of languages. Thus they will be better prepared to function in the multilingual world of work.