Phishing attacks are a constant threat and are becoming increasingly sophisticated. It is essential for every employee to protect themselves and other critical assets of the NWU. Come and learn how to identify suspicious emails, and in turn, apply security awareness best practices.
The NWU has made an "Advanced Phishing" Cyber Security course available for you, comprising of five lessons (and games).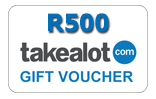 Stand a chance to win one of the last two remaining R500 Takealot vouchers if you complete the training and quizzes.