A summary of opportunities, communities, and events that could change your life
Are you working at a research organisation developing scripts or software to analyse your research group's data? Or are you developing research software as part of your postgraduate degree?
Over the last few years people in similar positions in the UK have been campaigning to establish the "Research Software Engineer" (RSE) as an acknowledged role in academia. In 2012 at the Software Sustainability Institute's annual Collaborations Workshop participants started an interesting discussion about the cross between researcher and software developer and the challenges associated with it - not least the problems with career path and recognition for contributions to research and publications. Dirk Gorissen, then a Research Fellow at University of Southampton summarised the discussion in a blog titled "The researcher programmer, a new species?"
Excited to see important health informatics work we're supporting making the news: http://t.co/qbasIhj4Ox

— UCL RC SoftwareDev (@uclrcsoftdev) June 12, 2015
Research software makes research like this possible - James Hetherington, Founder and Head of UCL Research Programming Group.
Subsequently the discussions lead to a collaboratively written paper presented at the 2012 Digital Research Conference - The Research Software Engineer. The paper highlights the importance of considering the role of the person developing software in an academic setting and closes with three recommendations to bring about a culture change in academia and research institutions in terms of how they view, treat, and reward people in these rolls:
Research evaluation panels should be given guidance in terms of recognising research software as "first class" research output
Research Software Engineers should be acknowledged as a new (and critical) role in academia. "Institutions and funding panels should recognise the value of this role in funding research proposals and in providing career progression and succession for such individuals."
"The fundamentals of good software engineering should form part of every researcher's basic training"
 
The Science Code Manifesto (authored by Nick Barnes) puts the sentiment of the 2012 paper in no uncertain words "Software is a cornerstone of science. Without software, twenty-first century science would be impossible. Without better software, science cannot progress." The manifesto boasts 1,144 signatories to date and covers five principles related to research software: availability of source code, explicitly stating copyright ownership or licensing, software should be cited in publications, scientific evaluations systems should provide opportunity to get credit for software development as part of the scientific process, and source code should remain available for a certain amount of time.
Since 2012 a lot has happened in terms of getting recognition for RSEs. In 2014 a self-governing Research Software Engineers Community was established in the UK. A website has been developed where RSEs can find members of their community, help support the cause, and learn about vacancies in this field. International research groups are also invited to list their groups and create a greater awareness of their work. Several more unconference-style Collaborations Workshops were organised by the Software Sustainability Institute, who have been playing a major role in realising the recommendations made in the 2012 RSE paper.  The various themes for each workshop were:
 
In September 2016 the RSE community will host their first conference dedicated to people working with software in research.

In March 2016 Anelda van der Walt from NWU eResearch participated in the 8th annual Collaborations Workshop in Edinburgh to see what it's all about.  The workshop was characterised by passionate conversations from early in the morning until late at night. Instead of being bored to death by Powerpoint presentations and long monologues, a large proportion of the audience had an opportunity to briefly describe their projects or passions during the first morning's lightning talks. The first afternoon provided more opportunities for lively participation and discussions during the Speed Blogging session. Anyone who have ever struggled to put pen to paper should really consider taking this approach to get to a first draft for their blog or article.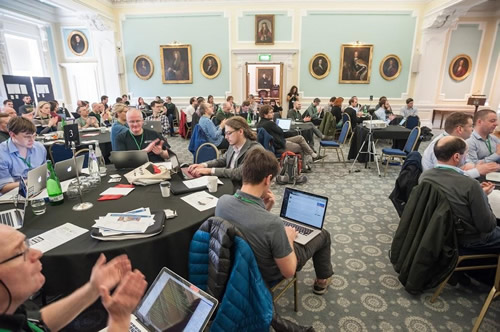 A round of applause during the lightning talks at the SSI Collaborations Workshop 2016
(Photo by The Software Sustainability Institute)
Day two followed the trend of the first day with plenty more opportunity to meet new people and talk about Collaborative Ideas. These ideas also formed the basis of the projects that were submitted to be worked on during the last day - HackDay.
Some of the interesting ideas included:


It was inspirational to see how much enthusiastic, passionate people can achieve in under 24 hours when they apply their minds (and when there are Raspberry Pi 3s up for grabs for the winning hackday project) .
There was a lot of transferrable ideas that we'd like to bring back to the South African RSE and general research community. IT@NWU and NWU eResearch look forward to building a stronger relationship with the SSI in future as we see great relevance of their work in our own context.
@SoftwareSaved asked researchers if they use research software and what would happen to their research without it... pic.twitter.com/oN5a2Qfzwf

— NWU eResearch (@NWU_eResearch) April 21, 2016
Aleksandra Pawlik, training lead from SSI recently presented the philosophies and work of the SSI
to the Association of South African University Directors of IT (ASAUDIT) Autumn Meeting in Stellenbosch.