On 23 and 24 June 2016 colleagues from the NWU attended a Research Data Management (RDM) workshop held at the Potchefstroom Campus. The 35 participants hailed from Information Technology, the NWU Libraries, the Research Support Office, and from a variety of research areas. All three campuses were well-represented.
This event was the first official institutional RDM workshop at the NWU and forms part of the larger NWU RDM initiative as announced by Prof Frik van Niekerk, DVC for Research, Innovation, and Technology in May 2016.
Martie van Deventer and Lucia Lotter from the Network for Data and Information Curation Communities (NeDICC) were the facilitators and focussed on the theoretical as well as the practical aspects of RDM. The event was characterised by lively discussions between the various entities represented.  Throughout the two days participants had the opportunity to work through several exercises and tools; some developed by Digital Curation Centre (DCC). These exercises allowed the benchmarking of current policies, practices and infrastructure supporting RDM at NWU.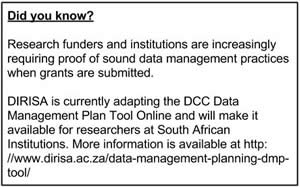 A conclusion which everyone came to at the end of the workshop, was that RDM will require significant collaboration between IT, Libraries, and the Research Support Office, as well as the researchers who will need to manage their data.
One of the recommendations from the workshop was that a small RDM task team should be established to connect with various research environments to gather more information about their requirements, challenges, existing skills, and workflows. A task team consisting of Zine Sapula (Potchefstroom Libraries), Ishe Muzvondiwa (Vanderbijlpark Libraries), Sabelo Chizwina (Mahikeng Libraries), Martin Dreyer (Information Technology), and Anelda van der Walt (eResearch) has now been established.
Over the next four months the RDM Task Team will be meeting with researchers from various research entities. Throughout the process feedback will be provided to all stakeholders in terms of progress and findings.
For suggestions or questions, please contact eresearch@nwu.ac.za.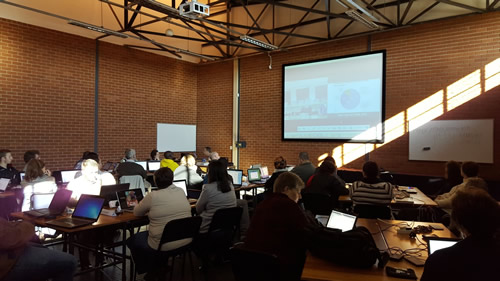 Photo credit: Martie van Deventer