The increase in demand for meeting and managing big data requirements poses big challenges with regard to ICT resources. This is especially true for big data projects such as the Square Kilometre Array (SKA) and the MeerKAT radio telescope.
Memorandum of Understanding
To address this challenge the North-West University (NWU) and the University of Cape Town (UCT) recently signed a Memorandum of Understanding (MoU) that will support researchers through the Africa Research Cloud (ARC).
The MoU commits the NWU and UCT to co-operating and providing the necessary resources for the design, build, maintenance and support of the ARC, which is based on the Openstack and Ubuntu free and open-source software platforms for cloud computing.
The ARC combines distributed data storage, computing resources and other cyber infrastructure and skills development into a network platform for different research disciplines like Digital Humanities, Bio-informatics, and Data-intensive Radio Astronomy.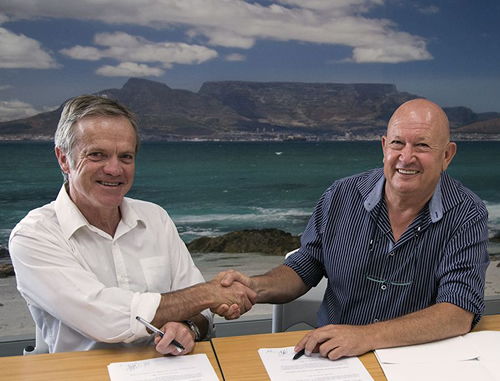 Photo:  NWU Chief IT Director Boeta Pretorius and Sakkie Janse van Rensburg, executive director for ICT at UCT at the signing of an MoU on the Africa Research Cloud.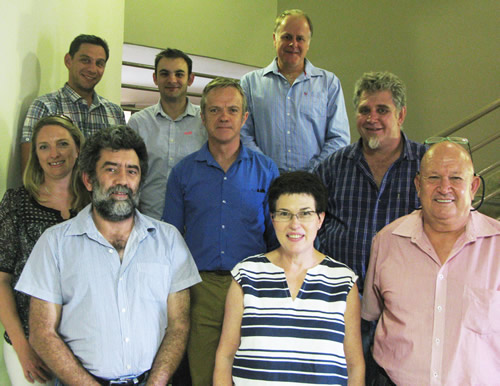 A first high-level meeting between the two Universities was held in Potchefstroom on 8 February 2016. Important issues like governance and funding were discussed. Although the technical challenges are huge, we have a highly competent team between the two Universities and we are sure that we will have the proof-of-concept phase finished by March and be in full production by mid-2016.
Photo left:  The ARC team:  Front:  Pieter Enslin, Enterprise Architect; Dale Peters, UCT Interim Director of eResearch; Sakkie Janse van Rensburg, UCT Executive Director of IT.
Middle: Anelda van der Walt, NWU eResesearch Consultant; Boeta Pretorius, NWU Chief Director IT; Wilhelm van Belkum, NWU Director – Operations and Infrastructure.
Back: Eben van Zyl NWU Architect, Stefan Coetzee, UCT Senior Technical Specialist, Andre le Roux, UCT Director Technical Support Services.