Finding the right fit is crucial for your company. As an employer seeking excellent graduates, you have come to the right place. This is not just a university. This is a place where anything is possible – where dreams are born, and where the best employees of the future are nurtured. It all starts here.
The Career Centre at the NWU offers you the following resources to tap into our talent:
Career Guide
The Career Guide in which to showcase your company and provide industry insights.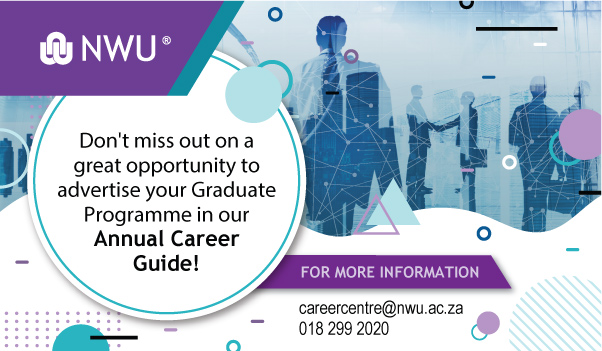 Virtual Career Fairs
Job Postings
The CareerZone, is an online platform where employers can share graduate jobs, internships, vacation programmes, competitions, events and more directly with our students.
Contact careercentre@nwu.ac.za to help you create a profile on the CareerZone.
If your organisation already has a profile on CareerZone, you simply need to log in with the username and password. If you are unsure of these details, or wish to be added to an existing account, please contact our team directly.   
Employers may also send us digital posters and brochures that we can post on the NWU Career Centre Facebook-page.
Entrepreneurship & Work Readiness Week
The aim of these annual seminars is to equip NWU students with the knowledge that is related to the transition from student life to work life. The seminars are informal and interactive in nature. The emphasis is on practical and useful information that students can apply in the transitional period. These seminars are presented on each of the three campuses, consist of approximately 4 to 5 presentations (30 minutes each) by industry experts in their fields, with an opportunity for questions from the student audience (10 minutes).
Employer Presentation
A company showcase regarding their culture and ideal candidates they are looking for High-level company overview and opportunities available.
Contact the Campus Liaison officers to book:
Mahikeng Campus (Building ADC, Office 139) - 018 389 2935. Email: mafikengcareercentre@nwu.ac.za
Potchefstroom Campus (Building F25) - 018 299 4409. Email: potchcareercentre@nwu.ac.za
Vanderbijlpark Campus (Building 13, SL 333) - 016 910 3345. Email: vaalcareercentre@nwu.ac.za
Guest Lectures
An invitation to the industry experts from faculties to give a talk on a topic to be agreed upon. The aim is to give insight from an industry perspective.
Rate Card
View our Rate Card 2021 and contact us about these and other opportunities to engage with potential future employees.
Register for Graduate Recruitment Services
Contact Us 
Mahikeng Campus (Building ADC, Office 139) - 018 389 2935. Email: mafikengcareercentre@nwu.ac.za
Potchefstroom Campus (Building F25) - 018 299 4409. Email: potchcareercentre@nwu.ac.za
Vanderbijlpark Campus (Building 13, SL 333) - 016 910 3345. Email: vaalcareercentre@nwu.ac.za