Booking for Events
Career Guide
A publication that provides career-related information for students. The publication offers an opportunity for companies to showcase and promote career-related opportunities intending to attract suitable graduate students. In addition, companies post career advertisements and share their contact info in this guide. The publication shares career-preparation information with NWU students that is useful to them in their processes of searching for jobs, CV writing, interview preparation, employability enhancement and developing their work readiness.
Virtual Career Fairs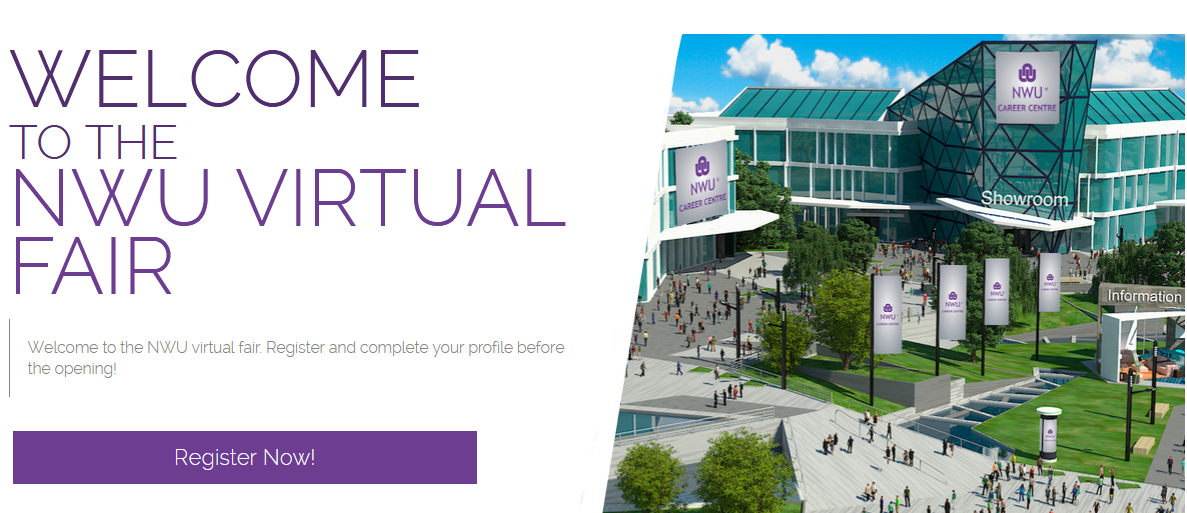 Training & Resources
CAREER CENTRE TRAINING AND RESOURCES SITE
EFUNDI HOW TO GUIDE
Please follow these steps:
- Log into eFundi in the normal way.
- Join the Career Centre site which is a "joinable" site
Follow the 5-steps in the picture below. In step 4, type: Career Centre.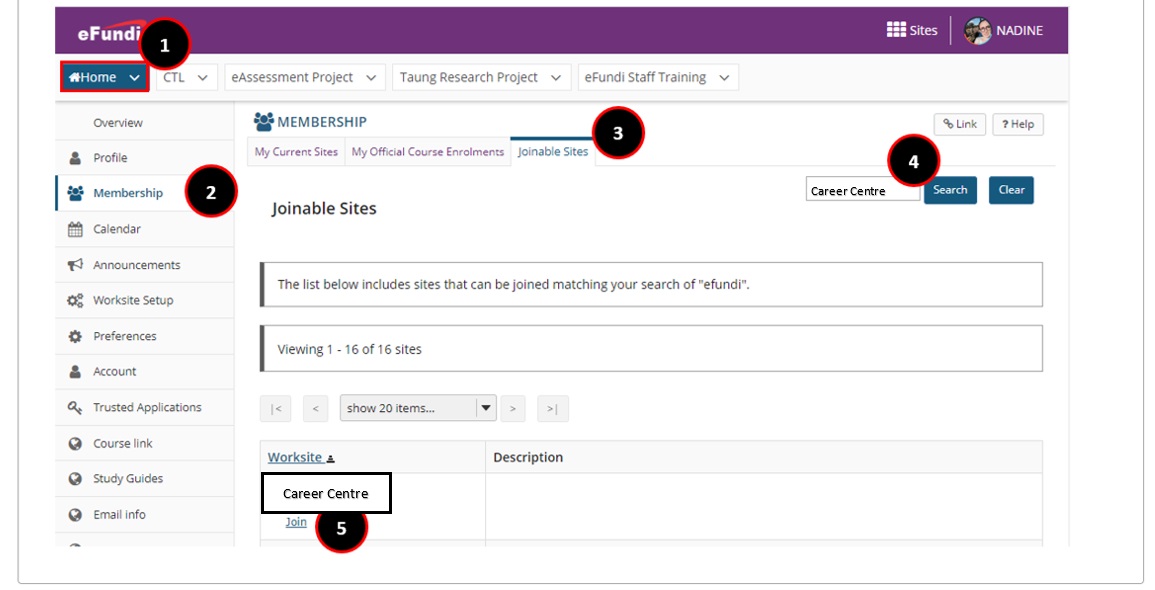 - Once you are in the Career Centre site, click on "Registration" in the menu on the left.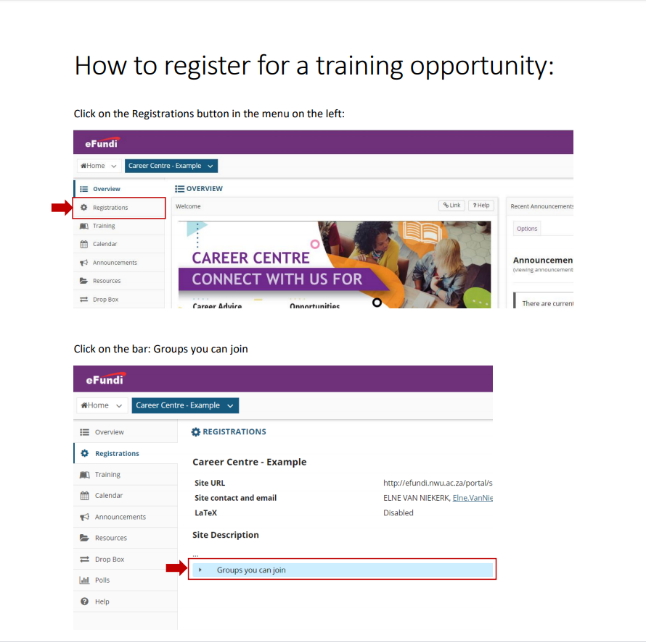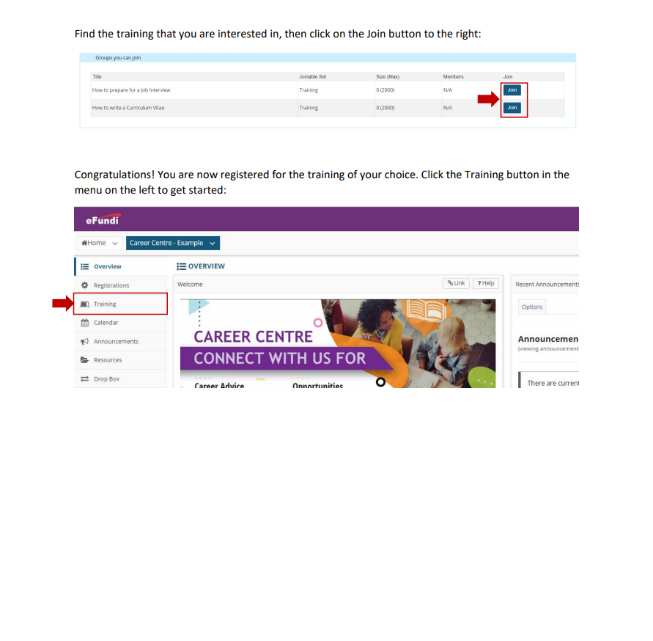 - At present ONLY CV writing training is active. Interviewing and others are still "under construction".
- After you have registered, go back to the left side menu and click on "Training".
- Read the message there and scroll down to "Training opportunities".
- In the CV-training box, read those notes and click on "Get started with ...."
- You'll be on a page where there is a "To do list" in a blue box. HHHere you can keep track of your progress.
- Directly below the blue box, you will find the six parts of the CV training.
- Click on each of the headings for it to open up.
You can go through the CV Training at your own pace BUT you MUST finish each part and answer the questions before the next part will unlock for you.
In the very last part, you will find information on further help form us at the Career Centre and how to send your final CV to us for feedback and comments.
On the Career Centre site there are also other "Resources" in the left side menu below "Training".
You do not have to register for that at present.  You can read the interesting articles we post there.
CareerZone
https://nwu-za-csm.symplicity.com/
The new career services management system, CareerZone! Here students/alumni may: Explore jobs and internships, RSVP for Career Events, and share CVs with employers recruiting at NWU.
Identify which career suits you best
Weblinks for jobseekers
Your Curriculum Vitae
Surveys
The Graduate Destination Survey.
The North-West University is committed to continuous improvement with regard to the employability of NWU students.
For this reason, the NWU Career Centre is conducting research by means of a graduate destination survey in order to trace employment trends of NWU students and gauge some perceptions of NWU graduates on the perceived value of their degree.
The Universum student survey has a very important role to play in the teaching-learning environment, as it provides the University with valuable and objective insights into the opinions and preferences of our students. Besides giving valuable information on the satisfaction levels of our students, it also provides the University with insights into how prepared students are for the world of work, which allows the University to see in which areas we can better prepare the students and contribute to our student's success.
Universum South African professional survey: The survey gathers data pertaining to professionals' preferences, experiences and opinions regarding a number of career-related factors, their communication preferences, and data on their university experience.
The purpose of the research is to survey opinions regarding working lives, experiences, careers and priorities for the future. The survey also examines opinions regarding university experience and alumni experience. The survey results help universities and employers in understanding the motivational factors and goals of today's professionals. The data helps organisations to develop and refine their recruitment strategies and provides universities with in-depth knowledge about their alumni members. 
The South African professional survey aims to:
Encourage respondents to think proactively about their careers 
Provide universities with valuable information regarding their alumni
Provide a communication channel between respondents and employers
Allow comparisons of professionals' perceptions around the world
The SAGEA employer and candidate surveys:
The SAGEA surveys alert universities to the demand for graduates, both in terms of industry requirements and skill requirements, and how employers are accessing graduates. Survey results aim to inform the University about graduate recruitment patterns and to prepare our graduates for the next transition in their life to the world of work, all of which is relevant in the lecture rooms.
Please contact us about how we can be of value to you.
For Alumni
The University's alumni provide a crucial resource for the career development of students, and through the Career Centre's alumni network alumni are encouraged to consider various mechanisms through which they can share their expertise. There are opportunities to volunteer their services as mentors to students, to present a guest lecture on their professional experiences and career paths, and to host student interns within their organisations. In addition, alumni may join the CareerZone that will provide them with long-term employability and advancement opportunities. Our Facebook page will give alumni a platform to search for jobs, advertise vacancies for professionals and provide information about important NWU career events.
Join a proud heritage of giving back, and reap the rewards. Please contact our office for further information.
---
Contact Us 
Mahikeng Campus (Building ADC, Office 139) - 018 389 2935. Email: mafikengcareercentre@nwu.ac.za
Potchefstroom Campus (Building F25) - 018 299 4409. Email: potchcareercentre@nwu.ac.za
Vanderbijlpark Campus (Building 13, SL 333) - 016 910 3345. Email: vaalcareercentre@nwu.ac.za