Enabling entrepreneurship is something the NWU does well. We reach out to entrepreneurs and would-be entrepreneurs in the community and among our students and work closely with like-minded partners in business, government and non-government organisations.
Grassroots partnerships and NWU-run entrepreneurship projects and programmes
Leopards Lair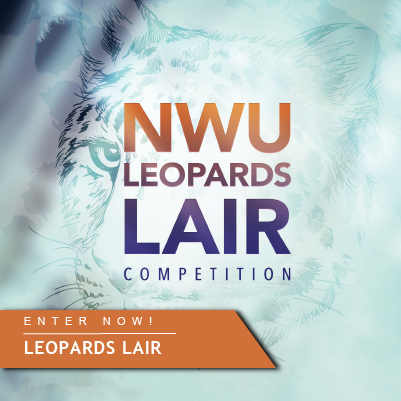 Leopards Lair Competition
The annual Leopards Lair competition encourages and supports student entrepreneurs across the three campuses of the North-West University (NWU) and Vaal University of Technology (VUT) to become future employers and henceforth job creators by embracing the value of entrepreneurship as a career choice.
Undergraduate and postgraduate entrepreneurs are invited to submit their innovative and business ideas.
The purpose of this competition is to identify the top student entrepreneurs, showcase their businesses ideas, and invite investment into their student business. The competition also provides the opportunity of developing skills through the different phases of the competition. In this process, undergraduate and postgraduate entrepreneurs will have the opportunity to demonstrate their entrepreneurial talent.
Grassroots partnerships 
North-West Premier's Office: 
Collaborating in entrepreneurship bursaries and initiatives, using various communication channels and community partners to spread the message to communities about the opportunities available.
A self-sustainable orphan care model with various entrepreneurial approaches, enabling the members to build their own homes and carry out income-generating activities. 
AUTHeR: 
The African Unit for Transdisciplinary Health and Research has various projects involving social entrepreneurs.
Touching Africa/NWU: BEEP Programme: 
Formally known as the Broad Enterprise Development Programme, this entails coaching and mentoring entrepreneurs to create and sustain businesses.  Some of the businesses already mentored are T-Shop Guys, Bravospace, Sound Masters Productions, Academics by Curiosity, Roopher Media, Travel & Tour with Rose and Healing Hope.
SETH Academy: 
The Science, Engineering, Technology and Health (SETH) Academy has been established at the Ferdinand Postma High School in Potchefstroom and helps with training and mentoring of future engineers and entrepreneurs while still at school.
Dr Kenneth Kaunda Resource Centre Learnerships: 
The North-West University Community Development Trust hosts various learnership programmes, Including in Hospitality (NQF level 2), Food & Beverage (NQF level 4) and Sport Administration (NQF level 4). Various entrepreneurial content forms part of the curricula and the learners are encouraged to start their own businesses after completing the programme.
Dr Kenneth Kaunda Resource Centre Training partnership: 
In collaboration with the NWU's Community Development Trust, the resource centre partnered with a company called iDNA to provide free training for grassroots and other emerging entrepreneurs in personality analysis and business plan development.
North-West Development Corporation (NWDC): 
Various innovation support initiatives and partners collaborate to set the framework for growth in areas such as innovation, research and development, entrepreneurship, skills and education. Initiatives include an SMS competition for entrepreneurs in villages, townships and small towns. Partners include the Premier's Office, NWDC, the Technology Transfer and Innovation Support Office of the NWU, the Department of Finance, Economy and Enterprise Development (FEED) in Setsekosane, the Technology Innovation Agency (TIA), the Small Enterprise Development Agency (SEDA), the Vaal University of Technology (VTET), colleges in the North West Province and community partners.
Student RAG initiatives: 
The student representative council on the campus in Potchefstroom has 86 projects where students from various residences give their time and knowledge to various NGOs enabling entrepreneurial thinking.
Ikamva Youth: 
Mentoring of social entrepreneurs
Social entrepreneurship: 
In the NWU's Community Engagement department, all team members are expected to mentor a social entrepreneur with a vision to uplift his or her community.
BHIVE Enterprise Development Centre (EDC)
This centre offers support for all stages of the start-up entrepreneurial cycle, including pre-incubation incubation and entry level business support. Here are some of BHIVE's most successful projects: 
Student entrepreneur business competitions: These competitions encourage and support entrepreneurship. Creating new ventures as part of learning is an alternative to traditional employment and a useful mechanism for gaining experiential business development experience. Idea generation workshops assist would-be entrepreneurs to turn ideas into concepts and generate business models generation. As prizes, winners receive cash investment and incubation.
Young Entrepreneurs Business Organisation (YEBO)
YEBO is a unique student organisation aimed at motivating university students to heed the call of entrepreneurship. It is a catalyst for developing an entrepreneurial community that fosters innovation and entrepreneurship and makes entrepreneurial resources available. YEBO supports educational and networking events and inspires the creation of new ventures.
Enactus
This is an international non-profit community of students, academics and business leaders committed to using the power of entrepreneurial action to transform lives and shape a better, more sustainable world. Enactus Vaal focuses on community projects, the aim being to grow the projects, make them sustainable and create jobs. Enactus is also active on the campuses in Potchefstroom and Vanderbijlpark.
Enterprising Women Programme
This eight-month business support programme is aimed at new/early stage businesses from idea to concept to business model and then to business plan. Various entrepreneur success stories have come from this initiative.
Incubation Programme
This contributes to the development of an entrepreneurial culture and increased entrepreneurial activity among NWU students, staff and the Vanderbijlpark community. There are various BHIVE EDCs incubation programmes.
NWU/VUT TIA Technology Entrepreneur Programme
This programme aims to promote regional innovation and entrepreneurship, as well as to develop capacity in technology entrepreneurship to address South Africa's current socio-economic challenges. The focus is on capacity development of individuals with science, technology, engineering, mathematics and information (STEMI) qualifications so that they can produce STEMI service or product innovation.
The NWU and Vaal University of Technology (VUT) hosted a workshop that attracted 126 applications from graduates with an interested in the commercialisation of technology and science-based research outputs In total, 55 were accepted and 28 speakers shared their knowledge of entrepreneurship with the delegates, who came from all three NWU campuses. They learnt about approaches and techniques for fostering creativity, managing a start-up enterprise and approaching prospective funders, and acquired skills such as basic business plan development.
Youth Innovation Programme (YTIP) of the NWU/Technology Innovation Agency 
YTIP aims to promote and stimulate the culture of innovation and entrepreneurship among the youth of South-Africa by providing assistance to young innovators in need of funding, mentorship and business support.
NWU Technology Transfer and Innovation Support Office
We have extensive support activities in the commercialisation (later) stages of entrepreneurship. We view these stages as vital in translating the entrepreneurship into jobs on the ground and economic value add. Our office offers extensive support to entrepreneurs, including idea evaluation, market research, business plan development, intellectual property (IP) novelty searches, IP infringement searches, registration of patents, registration of trademarks, copyright protection, registration and support of start-up companies, licensing contracts, non-disclosure agreements, IP negotiations, consultation, assisting in product development and assisting with funding applications.
Enterprises that have benefited from this support include  Campus Wash (a car wash business in a bag), Always Around (a food coating technology enterpris of the NWU_ and Lumegen Laboratories (foetal sex determination in game and rare birds).
Innovation Highway
This platform is being designed to link entrepreneurs with service providers along the value chain from ideation to jobs.  It assists in the creation of start-ups in the community.
Innovation Highway is a development initiative by the Technology Transfer and Innovation Support office of the North-West University (NWU), to volunteer the commercialization skills of its team members in order to help establish start-up companies for entrepreneurs outside of academia.
It is housed in a wholly owned subsidiary of the NWU, and is tax paying.
Innovation Highway focuses on early stage technology–linked innovations and often assists with prototype development and registration of intellectual property rights.
Its investment sizes ranges from R 20,000.00 to R 300,000.00, depending on the transaction parameters and potential.
Its pilot round of funding has just closed, having successfully invested about R 2.5 million in 10 different early stage projects and companies, mostly owned by entrepreneurs from outside the university.
The first round of capital was invested by the Industrial Development Corporation.  At this stage, we take grant funding only, so as to simplify the regulatory environment in which we operate.
The operations of Innovation Highway is conducted by the Technology Transfer Team of the NWU. 
We have developed dedicated processes and documents to enable a transparent and legitimate, yet simple assessment and investment governance framework.  These are available for free, and could be replicable and scalable with other universities' tech transfer offices.
We have learnt valuable lessons during our pilot round and aim to offer an enhanced service for our next round of funding in 2020.
For future sustainability, Innovation Highway takes an equity stake, a profit share or both when investing into a project.  In certain cases, we extend grants, taking into account development impact and other practical factors.
Innovation Highway is NOT currently considering new applications. We are raising funds for a next round.
Curricula/degrees/modules
Most of our degrees have an entrepreneurial module or modules that underpins their studies. Some specifics are:
Faculty of Economic and Management Sciences
Undergraduate
Managerial skills, problem solving for managers (second-year modules) and Entrepreneurship on third-year level
BComm Entrepreneurship and Business Management
Postgraduate
Honours in B.Comm Advanced Entrepreneurship
Various short courses in entrepreneurship.
MBA in Entrepreneurship                                                
Faculty of Engineering
The faculty has a module called FIAP where students of engineering address a social issue through an engineered solution.
Engineers need a final-year project and many students start their own business after completing their project. An example is a business called Elemental where chemical engineering students started their own craft beer business.
NWU School of Business and Governance
Its internationally accredited programmes promote entrepreneurship in all its forms: Various accredited short courses on entrepreneurship are presented.
The NWU Business School does research on entrepreneurship.
The Small Business Advisory Bureau (SBAB) offers business advice to prospective and existing entrepreneurs.
Community engagement projects
The NWU is engaged with 385 activities in our surrounding communities. Most of the projects have change agents/entrepreneurs who use entrepreneurial thinking to address issues in the community.
Green Campus Initiatives
Entrepreneurial thinking is that the heart of these initiatives, which students undertake and the Technology Transfer and Innovation Support Office promotes.
NIPMO
An initiative of the Department of Science and Technology, NIPMO implements the intellectual property rights from the Publicly Financed Research and Development Act (no51 of 2008). This act seeks to identify, protect, use and commercialise intellectual property emanating from publicly financed research and development. NIPMO holds information sessions throughout the year to inform the public and students about intellectual property matters.
Visit the NIPMO website for more information:
NWU/Technology Innovation Agency SEED FUND 
This seed fund provides small capital injections for entrepreneurial start-up companies.
NWU/Standard Bank incubation
Standard Bank offers funding for NWU-incubated entrepreneurs, enabling them to take their entrepreneurial innovations further and make them commercially scalable.
@NWU in a nutshell
This digital notice board communicates opportunities to entrepreneurs.
Idea2Product Labs
NWU and the VUT Science Park collaborate to give entrepreneurs the chance to turn their idea into a product through additive manufacturing. This is an exciting new initiative that enables entrepreneurs with disruptive innovations to present a complex prototype of their product.
Economic Literacy Centre
This is a newly created space where entrepreneurs can meet, share ideas and learn from one another. Various talks and programmes are being hosted throughout 2017, and NWU entrepreneurial videos will be screened.
International collaboration
We are actively seeking opportunities for our entrepreneurs to share their ideas on international platforms. A visiting Swiss delegation provided support for various initiatives through the Technology Innovation Agency.