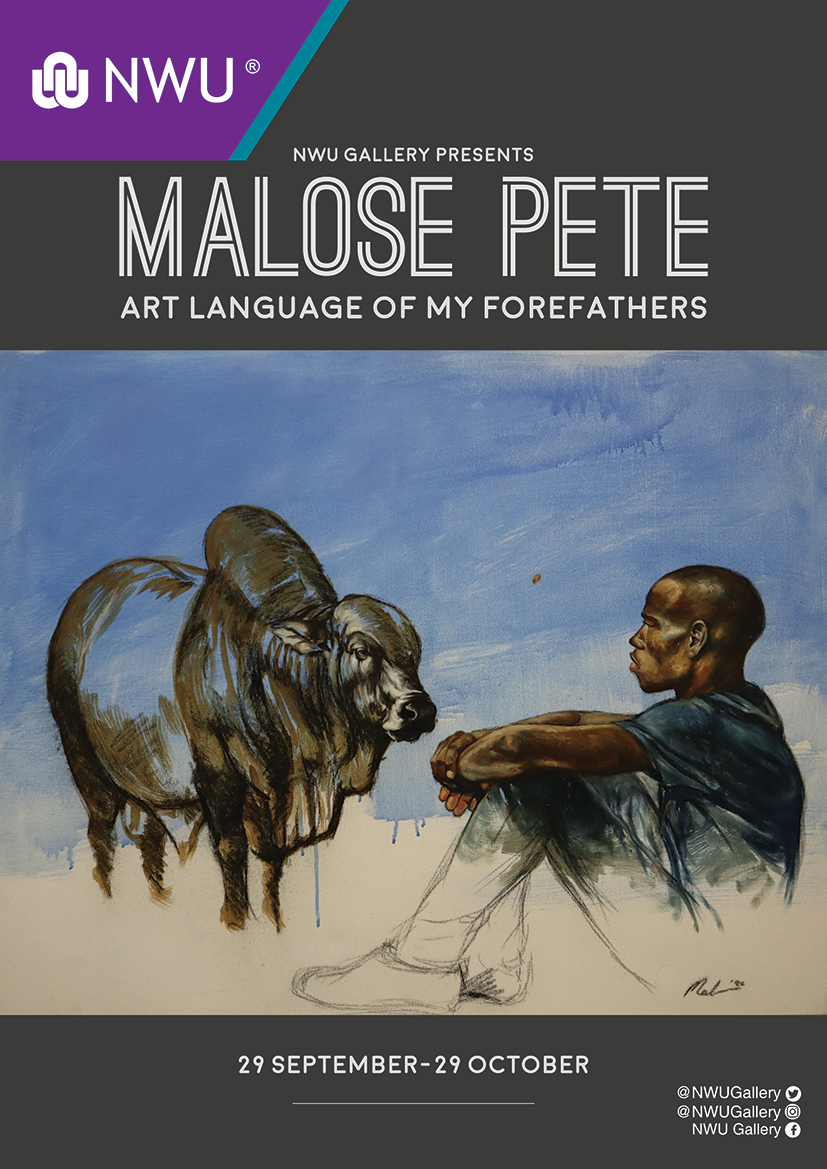 NWU Gallery is pleased to present:
ART LANGUAGE OF MY FOREFATHERS by Malose Pete
Online exhibition: 9 Augusts 2021 to 17 September 2021
Online exhibition: 29 September 2021– 29 October 2021
Malose Pete is an artist who uses painting and sculpture to bring across different societal perspectives with the hope of encouraging people to dig deeper than what can be considered normal. He has been creating since he was a young man in the village of Ga-Mahoai in Polokwane.
He draws his inspiration from moments of solitude that allow him to observe the world in a way that offers a different outlook. Malose believes that finding your authentic self is key to creating art that truly represents something that people never knew they needed.
In a statement regarding the upcoming Art Language of My Forefathers solo exhibition he says, "The artworks are made from the soil that my grandmother used to create wall decorations and mix with cow dung to polish floors with when I was way younger. I took some of the techniques they used back then and fused them with the techniques I learned in my 10-year art career to create new and exciting presentations.
Their art was mainly used to preserve the look and feel of homes while my art has been to date about interrogating identity issues and belonging. I believe the two themes come together very well especially in the current society where new blended communities emerge in urban spaces and identities are challenged; where belonging is also a broader term since connectivity has made the community a broader space.
The artworks seek to evoke thoughts of family preservation in ways where the old and modern blend together to create new ways of making sense of the world.
---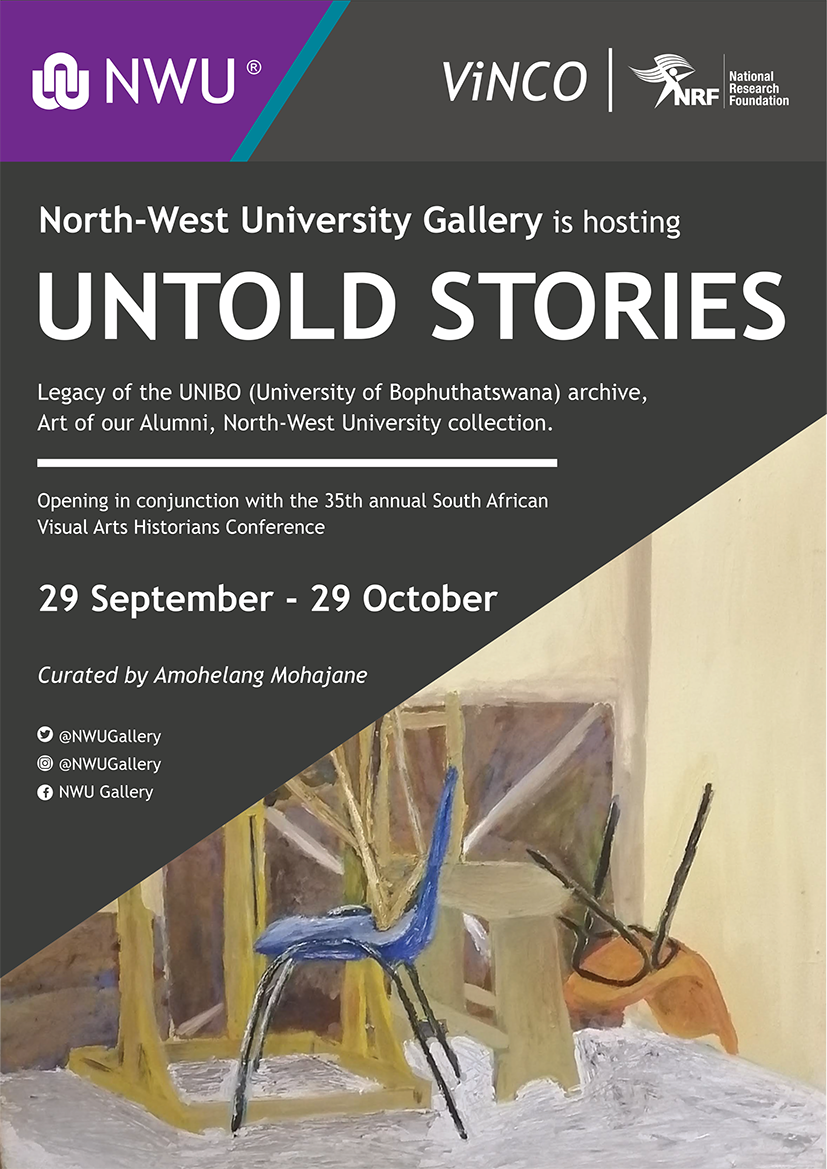 NWU Gallery in collaboration with Visual Narratives and Creative Outputs (ViINCO)
UNTOLD STORIES, Legacy of the UNIBO (university of Bophuthatswana) archive, Art of our Alumni exhibition
Online exhibition: 29 September 2021– 29 October 2021
The North-West University Art Gallery is proud to present an exhibition of works by art students from the former University of Bophuthatswana (UNIBO).  In 2019, more than 50 artworks were found in a storeroom on the Mahikeng campus, where the paintings and sculptures had been relegated for over three decades. The works date from the 1980s to the early 1990s, when the UNIBO (later renamed the University of the North-West), offered a degree in Fine Art.
There is currently very little published information and no scholarship on art education at UNIBO and UNW during these turbulent years of struggle and transition from apartheid to democracy.  While Bophuthatswana and UNIBO's history is no doubt burdened, this archive of artworks testifies to the former university's educational ideals at a time when black students had scarce opportunities for studying art in South Africa.  Untold Stories, Legacy of the UNIBO (university of Bophuthatswana) archive, Art of our Alumni exhibition curated by Amohelang Mohajane is an attempt at opening critical discussion and research on the North-West University Collection archive.
UNIBO was founded in 1980 in the erstwhile Tswana 'homeland' of Bophuthatswana, one of ten Black 'homelands' or Bantustans. Under various laws promulgated from the early 1950s, the apartheid government assigned a 'homeland' to Black persons according to their presumed ethnic origin. The apartheid government granted spurious autonomy to 'homelands' such as Bophuthatswana, but it further denied Blacks civil and political rights in what was designated 'white' South Africa. In 1994, the Bantustans ceased to exist and were again incorporated into South Africa.
The president of Bophuthatswana, Lucas Mangope, regarded the arts as vital to skills development and requested that a department of art be established at UNIBO. The department was established in 1984 and from 1985 to approximately 1999, the art department offered a degree in Fine Art that included painting, drawing, sculpture, Art History, printmaking, educational and maths-based courses focused on visual art.
The exhibition provides an overview of both the arts curriculum of the former department and the personal voices and burgeoning styles of individual students. The subject matter includes still life, figure and perspective studies, portraits and genre scenes in paint on board, plaster busts, wood carving and linocuts. There are also striking self-portraits, exploratory and expressive paintings and sculptures that make strong social-political statements and others that experiment with Cubist and Surrealist influences. While most of the works are unsigned and undated, artists such as Daniel Mosako, George Bhunu, Tommy Motswai, Felicious Dichaba, Frank Ledimo, Johnny Sekwela, L. Sono, R.M. Ramsimphi and Gemma Tabane are represented in the archive and exhibition.
This is clearly a neglected chapter in South Africa's historical and art historical record. This exhibition and an accompanying panel discussion by alumni and art historians on 2 October are held in the hope of stimulating discussion, research, and scholarship on this rich archive, the students, artists and lecturers, and the socio-historical context of the former art department.
This exhibition was made possible by support from the National Research Foundation and Faculty of Humanities, North-West University.