Welcome to Technology Transfer
One word that captures the spirit if the North-West University is "innovative".
North-West University is a pre-eminent African university. With an impressive history driven by the pursuit of knowledge, research, and innovation, and with roots dating back 147 years, it is a leading centre of excellence.
The spirit of the North-West University is reflected in the way they unlock the future for people and enable them to make their dreams come true.
Innovation, be it evolutionary innovation, which is the continuous or dynamic innovation brought about by many incremental advances in technology or processes, and revolutionary innovation, often disruptive in its inventiveness, is what drives the advancement of humanity. Throughout history, universities, like North-West University, have been focal points of research and scholarly development that have given birth to discoveries which have enriched humanity and its endeavours in a myriad of different ways. The NWU received a 5 star rating for Innovation through the QS Global ranking system.
With 73,414 students and a mascot called "Eagi", North-West University (NWU) was founded on January 1, 2004 through the amalgamation of three different learning institutions into a multi-campus university with a footprint across two provinces. The Mahikeng and Potchefstroom Campuses are situated in the North-West Province and the Vanderbijlpark Campus in Gauteng. 
Today, NWU is recognised as one of the best-managed and most innovative universities in South Africa. It continues to celebrate and encourage multiculturalism, multilingualism and multinationalism. With an exceptionally rich range of study choices at undergraduate and postgraduate level, the university's offerings span a spectrum of academic disciplines, from agriculture and arts through to commerce, engineering, education, health, law, the natural sciences and theology.
---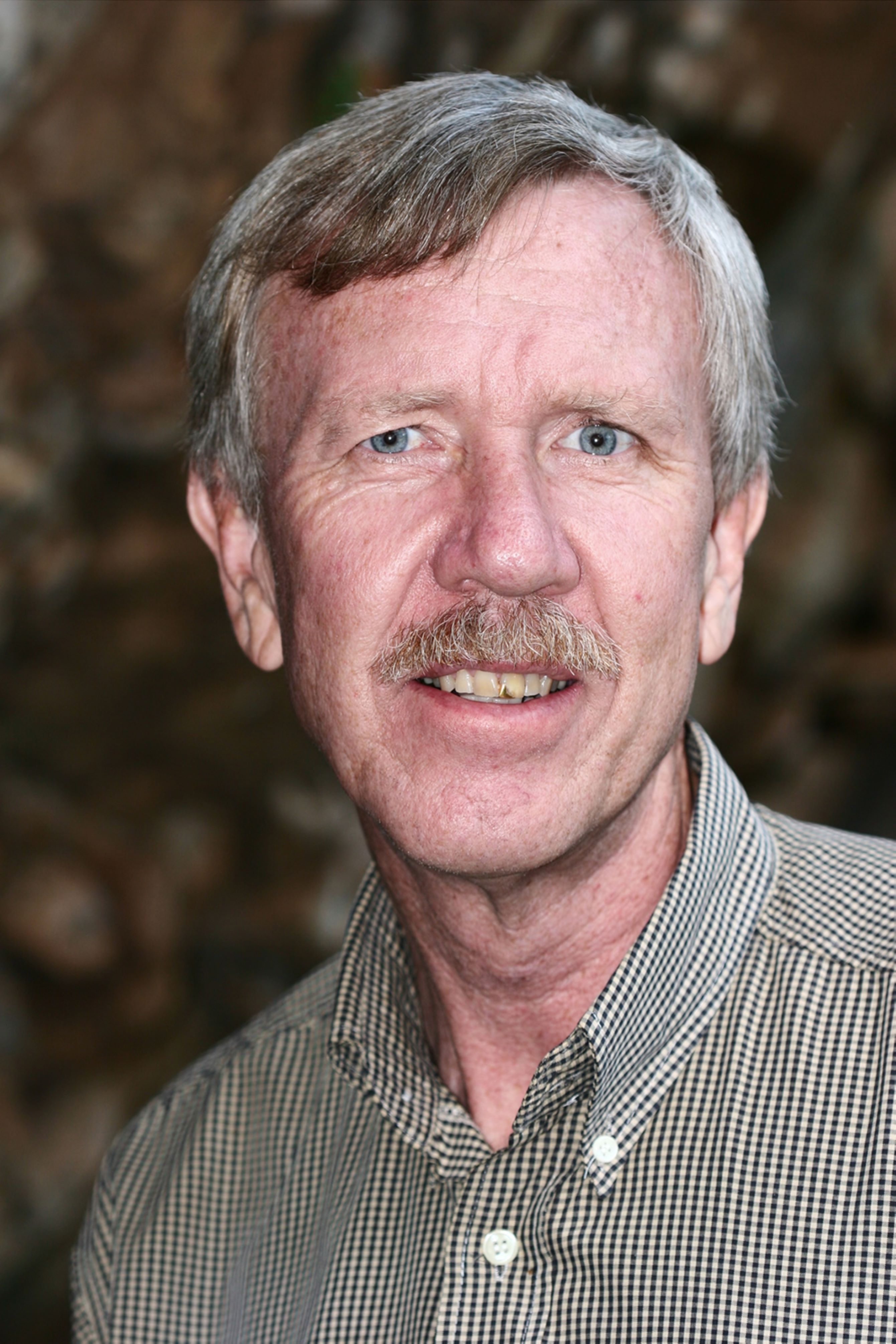 Prof Frans Waanders, Acting Deputy Vice-Chancellor: Research & Innovation Support
Prof Waanders is a NRF-evaluated researcher and is also an evaluator for the NRF and NRF-Thrip projects as well as a peer reviewer for various scientific journals.
He is a member of the South African Institute of Physics, South African Institute of Mining and Metallurgy and a fellow member of the Geological Society of South Africa.
He is a registered engineer and natural scientist with ECSA and SACNASP respectively.
He has published more than 200 articles in accredited journals and delivered more than 200 papers on nuclear physics, nuclear astrophysics, geology, water pollution and Mössbauer spectroscopy at national and international conferences.
---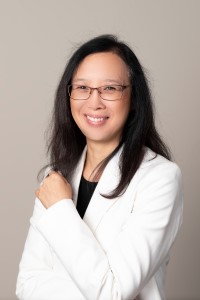 Dr Janine Chantson, Director: Technology Transfer & Innovation Support
Dr Janine Chantson is a Registered Technology Transfer Professional (RTTP) with a passion for transferring knowledge and intellectual assets so that research has impact on society and the economy.  Her strategic interests are to promote and advance research for impact, facilitate knowledge exchange and commercialisation, and increase cooperation and collaboration with business and industry.
---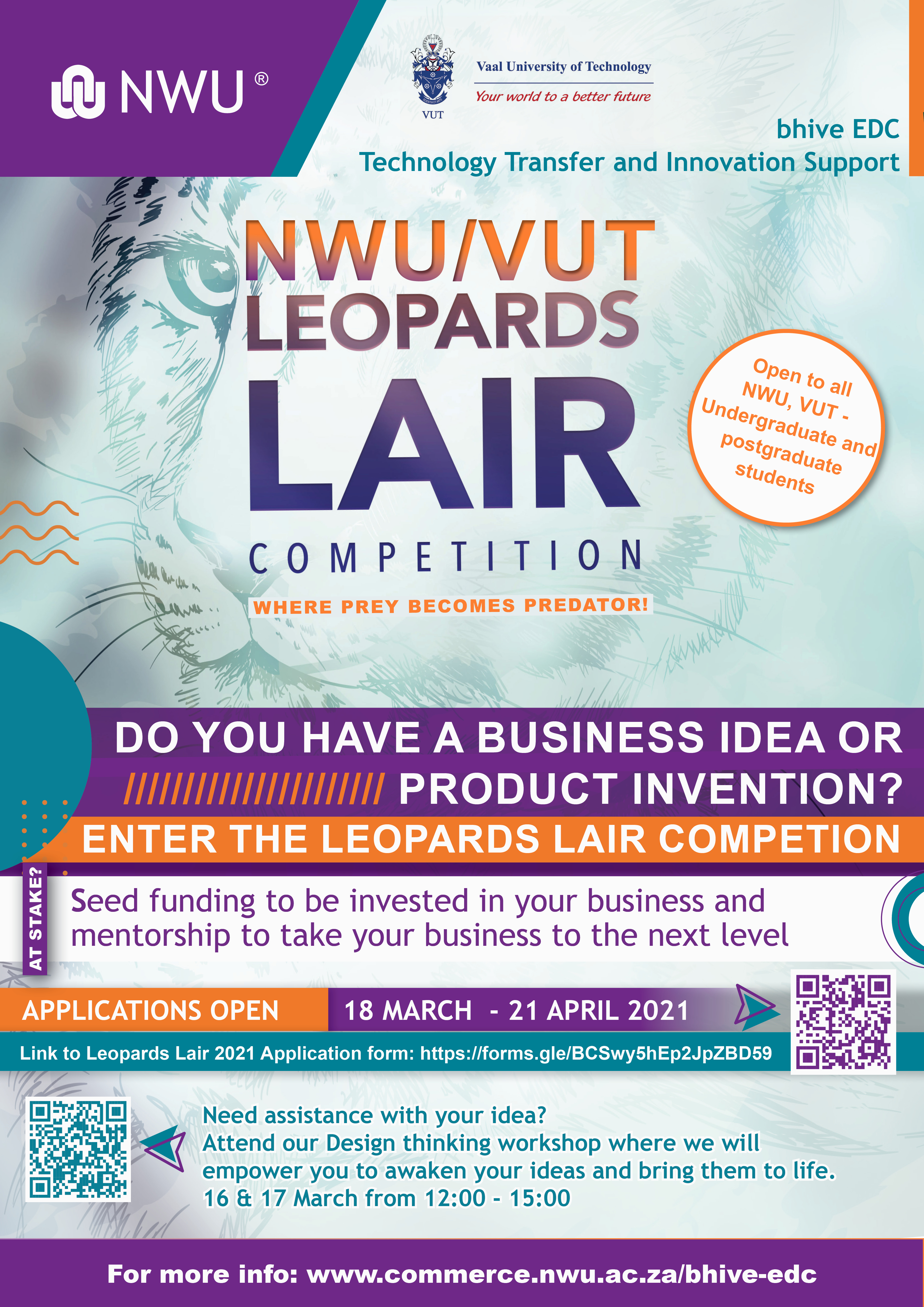 Leopards Lair Competition
The annual Leopards Lair competition encourages and supports student entrepreneurs across the three campuses of the North-West University (NWU) and Vaal University of Technology (VUT) to become future employers and henceforth job creators by embracing the value of entrepreneurship as a career choice.
Undergraduate and postgraduate entrepreneurs are invited to submit their innovative and business ideas.
The purpose of this competition is to identify the top student entrepreneurs, showcase their businesses ideas, and invite investment into their student business. The competition also provides the opportunity of developing skills through the different phases of the competition. In this process, undergraduate and postgraduate entrepreneurs will have the opportunity to demonstrate their entrepreneurial talent.
Students from the North-West University (NWU) pulled out all the stops at the 2020 Leopards Lair business competition.
Applications for the 2021 competition opens on 18 March.
---