| | | |
| --- | --- | --- |
| The NWU way | | Be heard - Do you have any questions or want more information? Send an email to thenwuway@nwu.ac.za |
Feedback on the NWU Way culture project
The dipstick assessment of NWU's current culture, developed through culture conversations with staff members and students across all three campuses, is complete. The assessment also drew from the staff climate survey and student culture and climate survey of 2017/2018.
As a leadership team, we have received feedback on the current culture, as well as the initial recommendations emerging from phase one of the project. We would like to once again express our sincere gratitude to each and every staff member and student who made the time to attend the culture conversations and make their voices heard in this important process.
In the next phase of the project, we will facilitate high-level mapping of the desirable and preferred NWU culture for both staff and students, otherwise known as the NWU Way. It must support our Council-approved strategy, so that we can continue our transformation journey to position the NWU as a unitary institution of superior academic excellence with a commitment to social justice.
The next steps of the project are as follows:
In line with our commitment to transparency, the project team will communicate the results of the "As Is" culture assessment to statutory committees, staff and students;
The University Management Committee will identify and implement "quick wins" or corrective action to be taken on some of the issues raised by staff and students in the course of the culture conversations; and
The NWU Way design team will draft a "chopping block" NWU Way – which comprises a culture map for NWU including values and value descriptors. Any staff member or student who wishes to participate in the process to craft the "chopping block" culture map is welcome to attend the design team meeting on 4 September 2019. Using the "chopping block" NWU Way, facilitated sessions will be conducted with staff in all faculties and departments and across all three campuses to co-create the "NWU Way". In this process the desired behaviours that will enable us to live our NWU values and ultimately achieve the NWU's strategic intent will be defined.
Should you wish to participate in this exciting and aspirational process to craft the framework for an NWU Way, please contact Reitumetse Machaba on 018 285 2142.
What is the NWU way?
As we pursue our dream to be "an internationally recognised university in Africa, distinguished for engaged scholarship, social responsiveness and an ethic of care", we are working hard on actualising our strategy which aims to transform and position the NWU as a unitary institution of superior academic excellence, with a commitment to social justice.
As part of this journey, we need to create a shared organisational culture that will support our strategy. Ultimately, we want every staff member and student aligned behind a set of values, norms and everyday behaviours – while we all collectively live the NWU Way. While the NWU's current success models focus on creating a culture that is welcoming, inclusive and enabling, we believe that it is important to involve the whole university in crafting our desired culture and creating the NWU Way which we can all own.
What is culture?
Culture can be defined as the characteristics and knowledge of a particular group of people, encompassing language, religion, cuisine, social habits, music and arts.
Culture is shared patterns of behaviors and interactions, cognitive constructs and understanding that are learned by socialisation. Thus, it can be seen as the growth of a group identity fostered by social patterns unique to the group.
Culture therefore encompasses various aspects - what we wear and how we wear it, our language, marriage, what we believe is right or wrong, how we sit at the table, how we greet visitors, how we behave with loved ones - and a million other things.
Culture is our way of life. It includes our values, beliefs, customs and traditions.  Culture is reflected in our history, in our heritage and in how we express ideas and creativity.
Our culture measures our quality of life, our vitality and the health of our society.  Through our culture we develop a sense of belonging, personal and cognitive growth and the ability to empathise and relate to each other.
What is the Culture Project?
The university embarked on a NWU Way Culture Project to understand our current culture and define the future culture that we would like to create, or the NWU Way. This multi-phased project already started and will continue until June 2019.
A key element of the project will involve conversations where staff and students will be asked to share their experience of our current culture and assist us to determine the culture that we aspire to at our university. During the course of the next six months, staff and students be invited to participate in discussions to share their experiences and ideas as to better understand the present and create the future.
Click here to read a letter from the vice-chancellor, Prof Dan Kgwadi, encouraging NWU staff and students to participate in the Culture Project.
Behind the scenes
The NWU joined forces with Laetoli, a well-known company who specialises in designing and implementing innovative consulting, facilitation and training solutions to meet uniquely African and South African transformation challenges.
A design team has been established to ensure that all the different voices in our NWU family are represented in the design and implementation of the culture change project.
The design team comprises a diverse group of individuals who represent Laetoli and NWU staff and students, and will help guide the project process, activities, timing and communications.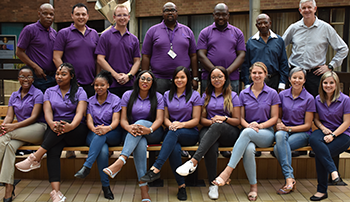 This is what you have to say
What is NWU culture?
Some photos from the recent "As Is" culture assessment feedback session at the People & Culture Community Forum